Managing a tattoo studio requires efficient appointment scheduling, customer management, artist management, and financial tracking. Fortunately, there are several software options available to help streamline these tasks and improve the overall efficiency of your business operations.
You'll find an evaluation of the top six software options in the market according to their service, design, features and value for money, as well as their price ranges and our final score.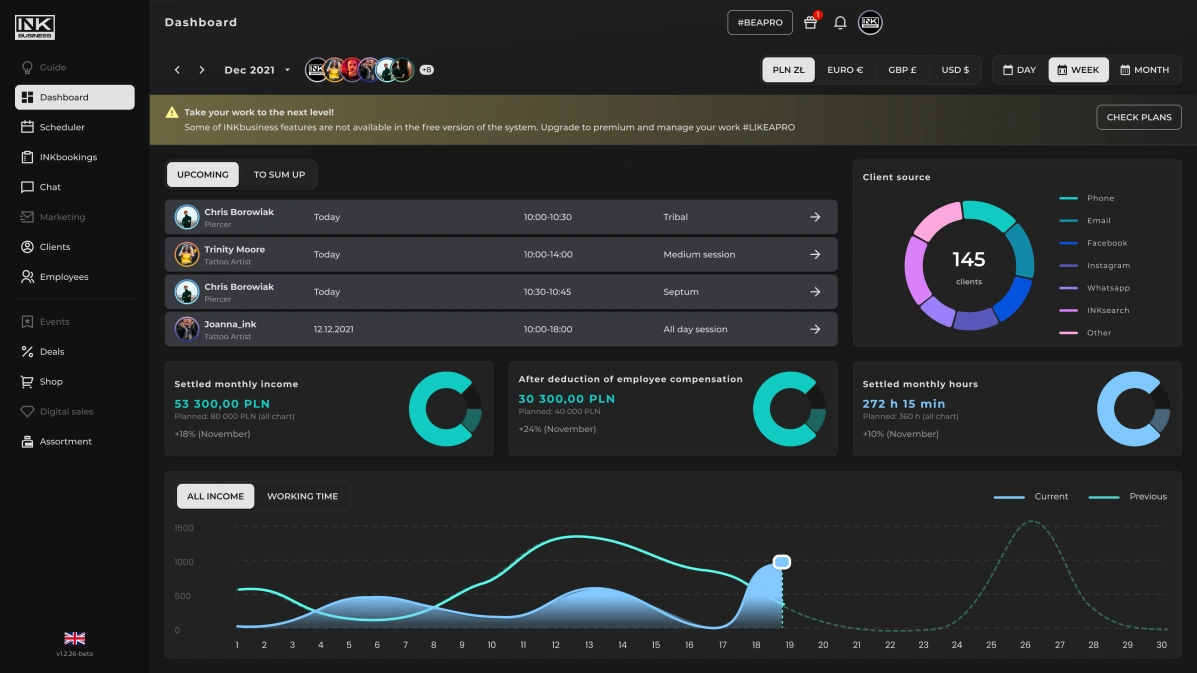 INKbusiness is a powerful software platform that offers a wide range of features designed specifically for managing tattoo studios.
Its has a easy-to-use interface that allows:
Appointment scheduling
Customer relationship management
Artist management
Financial reporting,
They also have a mobile app that makes it easy to manage the studio from anywhere. This is our favourite because it was made specifically for Tattoo Studios, so you can manage other artists in your studio besides your own agenda.
You can try it out for free or even schedule a demo if you prefer.
Price range
From 19€ per month (for an individual artist) to 55€ per month (for as many artists as you need)
Our Score
9.5/10
Specially Offer
20% discount specifically for TattoosWizard readers! Just apply the coupon "TATTOOSWIZARD" when you make your INKbusiness subscription and enjoy.



Square Appointments is a great appointment scheduling software. It's not specific for the tattoo industry, but it allows you to manage appointments, customer information, and employee schedules.
The platform also offers a range of reporting and analytics features that provide insights into the health of your business. In addition, Square offers a range of tools designed to help you manage your finances, including invoicing, payment processing, and payroll management.
They are probably the biggest company in the sector, but they are also more focused on the hardware part.
Price range
Starts at 29$ per month + processing fees.
Our Score
8/10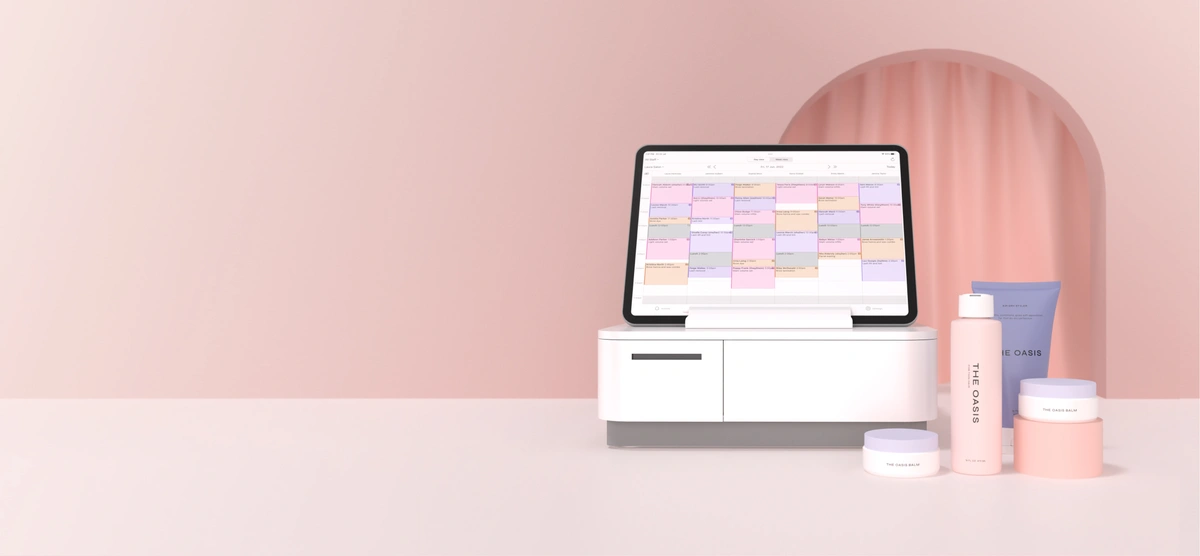 Timely offers features such as appointment scheduling, artist management, and financial reporting. The platform also provides automated appointment reminders and follow-up messages, as well as integrations with popular payment processors.
Managing a tattoo studio can be a complex and time-consuming task, but with the right software, it can be much easier. There are many softwares to help you manage your appointments, customers, artists, and finances more efficiently. Whether you're just starting out or looking to streamline your existing operations, these software options are definitely worth considering.
Price range
From $79.99 per month to 1499.99$ for a one-time payment for one computer.
Our Score
7.5/10



TattooPro is a cloud software oriented toward the body modification industry. They started as a Point of Sale with the parent company Punchey which was more oriented to payments and then created TattooPro.
They are a great addition to your studio and is very easy to get started with. But, in our opinion, it has two big disadvantages : the first is that it has a limit of contacts you can store and then you have to upgrade the plan. The second one is the design, which look a bit outdated.
Price range
From $149 for single users, to 499$ for full studio.
Our Score
7/10



BookedIN is an appointment scheduling software designed for businesses of all types, including tattoo studios. The platform allows you to receive payments and is has a user-friendly interface that is oriented toward scheduling.
Customers can easily book appointments online, view artist portfolios, and receive automated appointment reminders. Additionally, the software offers an easy-to-use dashboard that enables you to manage employees and track customer histories.
From our experience, the website and software are a bit slow compared to other softwares on this list and it's also not tailored to the tattoo industry, which you will notice when you start using.
Price range
From 29$ per month for one calendar, to 89$ per month for unlimited calendars.
Our Score
7/10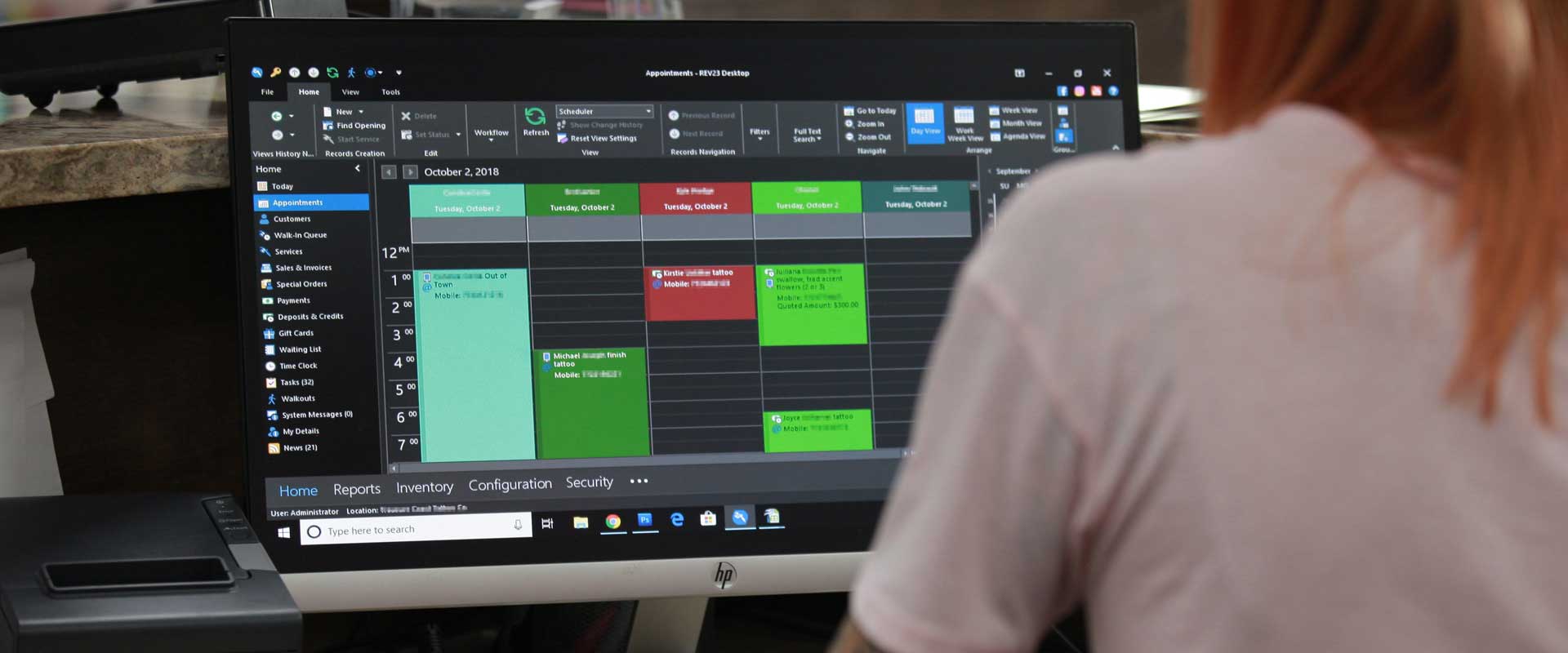 Rev23 is designed from root to be used in the body modification industry, and you can understand it when you start using it, as it has several tattoo specific features.
It requires installation and is not web based, which, for us, is the biggest issue. You need to have it on one single computer and that computer needs to be windows (can't use it on tablet, phone or mac). It also can't be used to receive payments.
It has everything you can imagine you might need, but the design is somewhat outdated.
Price range
From $79.99 per month to 1499.99$ for a one-time payment for one computer.
Our Score
6/10


Related Reviews