The world of tattoos is constantly evolving, and new technologies and innovations are regularly introduced to the market. One such innovation is the wireless tattoo pen machine, which allows artists to work without the constraints of cables and cords.
Today we're reviewing the EMALLA Wireless Tattoo Pen Machines, more specifically the AVON and the EAGE models. These are prime example of this wireless machines, and have been making waves in the tattoo community.
This Pen is lightweight, compact, and easy-to-use tool that allows tattoo artists to work with more precision and control compared to heavier and wired machines.
With a powerful motor and adjustable needle depth, the EMALLA Avon machine is suitable for a wide range of tattooing styles, including lining, shading, and coloring.
Its wireless design means that artists no longer have to worry about tangling cables or tripping over cords, providing more freedom and flexibility to work with.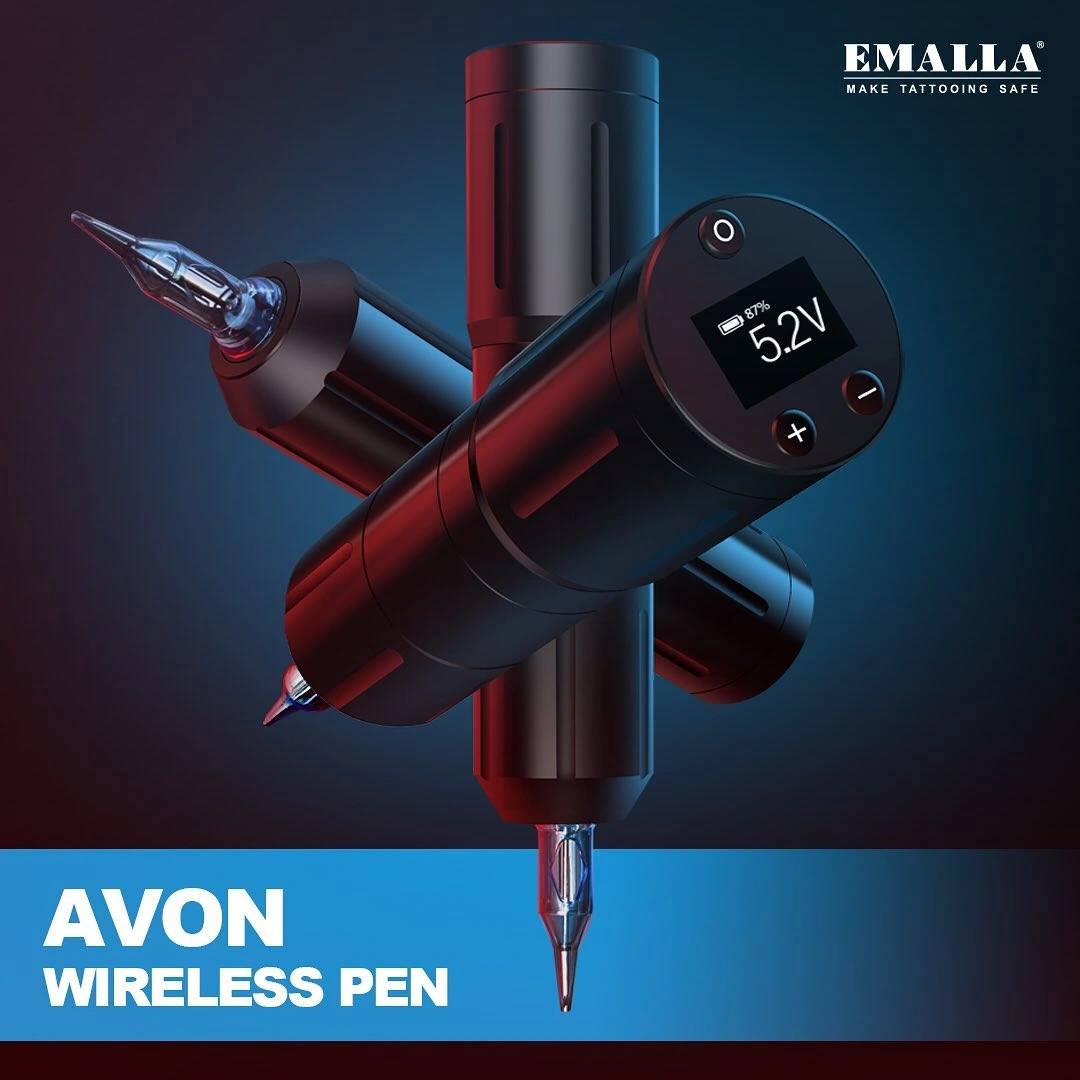 However, the EMALLA Avon wireless tattoo pen machine is not without its drawbacks. One issue is that being wireless, it has a limited battery life, which means that artists may need to recharge the machine between sessions. For longer tattoo sessions, we advise either plugging the cord or getting a battery ready for the exchange. For these reason we always advise getting extra batteries when you buy your pen.
The EMALLA Avon machine is priced at the mid-range, not being the most expensive but also not being a beginner machine.
From our own use we can say this is a remarkable piece of technology due to its high-performance motor and adjustable needle depth. Even if you prefer a coil machine, this is a great addition to have in your arsenal as it's easy to carry, fast to start and very reliable. I personally like to carry one of these in my car because...you never know :)
Video Review for AVON Pen Machine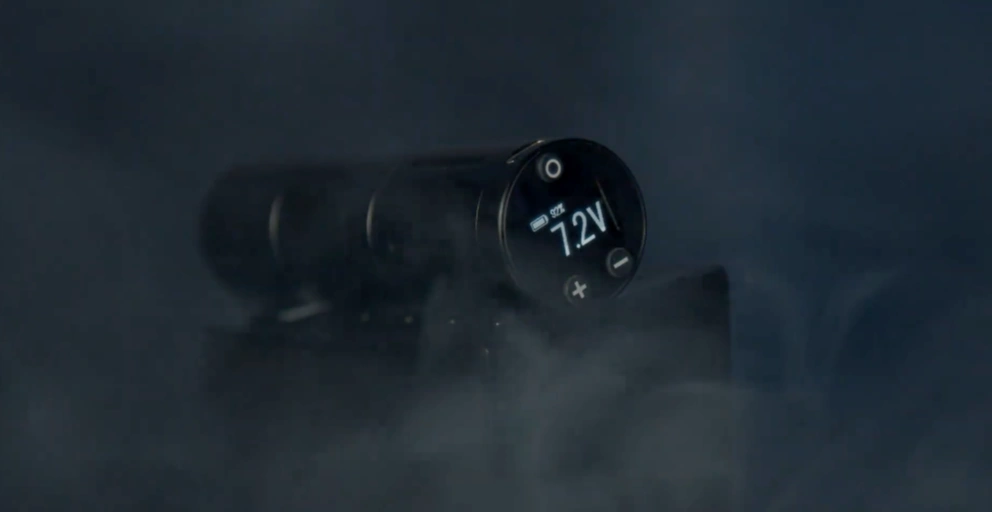 Specs
Battery life: Up to 10 hours
Charging time 90 minutes for a full cycle
Battery type: 1800mAh Lithium Battery
Motor Speed: 11000rpm/min
The Stroke: 3.5mm
Charge Mode: type-2 quick charge
2 Modules: Wireless / Traditional Version
Size: 30mm×127mm
Weight: 160g
The EAGE wireless pen was a highly-anticipated addition to the market, boasting an impressive array of features that have caught the attention of tattoo artists worldwide. With a sleek design, high hardness and lightweight, this tool promises to be a very durable machine.
Besides being a wireless machine, EAGE is also one of the few machines on the market that features a built-in menu via digital display.
With no cords or cables to worry about, tattoo artists can move around freely and work with greater ease and flexibility. This is especially useful for larger tattoos that may require the artist to change positions frequently or work on different areas of the body.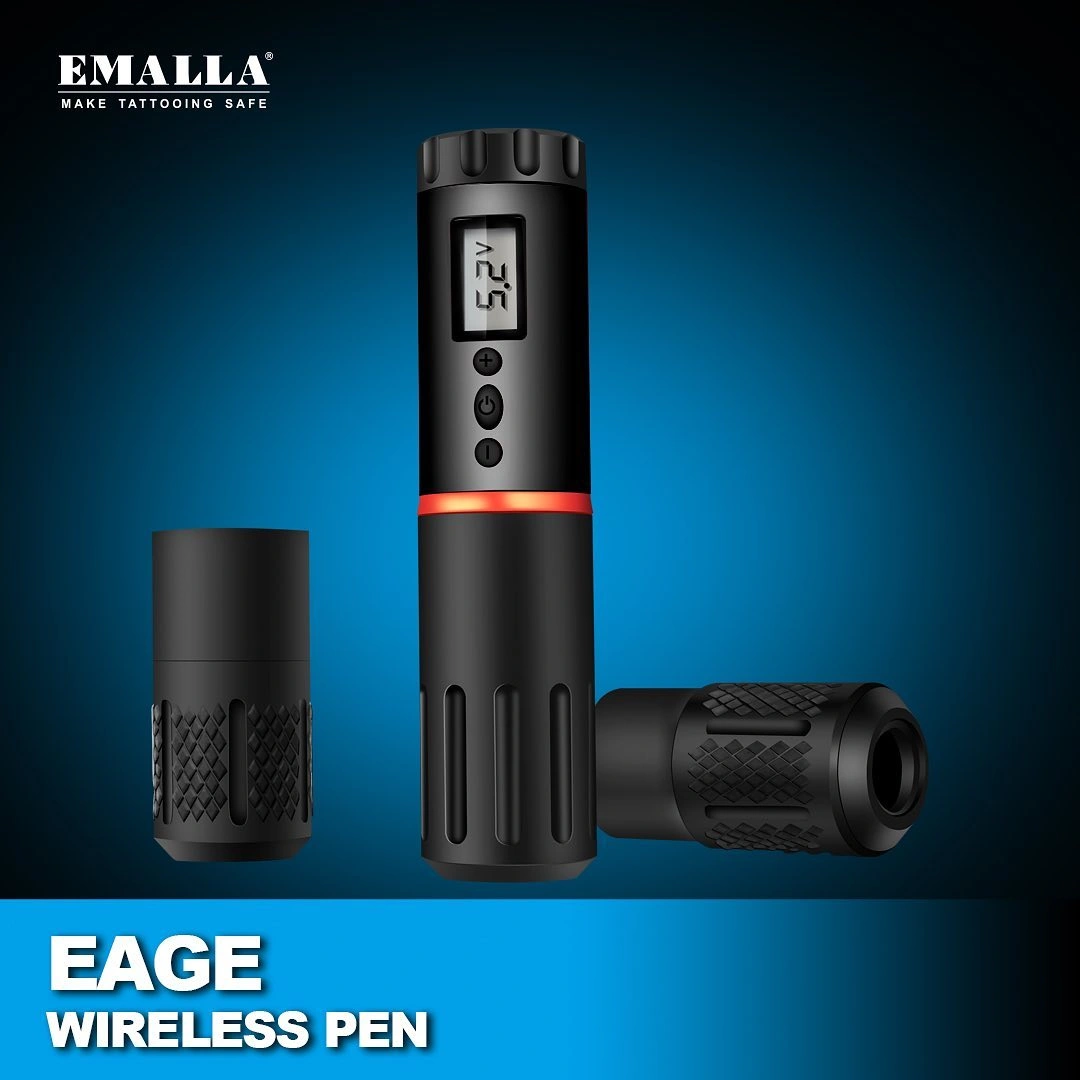 Another impressive feature of the EMALLA EAGE pena is its powerful motor. With a speed of up to 12,000 RPM, this machine is suitable for all types of work. Additionally, the machine's adjustable needle depth allows for greater precision and control, ensuring that artists can create highly detailed and intricate designs.
In terms of dimensions, this machines is very similar to the AVON, being only 30g heavier than it's sister machine. It's been designed with the comfort of the artist in mind. Its ergonomic grip ensures a comfortable hold, even during long tattoo sessions, and its lightweight design makes it easy to handle and maneuver.
Both EAGE and AVON are compatible with all cartridge needles types so you can adapt them to your existing inventory.

Specs
Battery life: Up to 8 hours
Charging time 120 minutes for a full cycle
Battery type: 1800mAh Lithium Battery
Motor Speed: 11000rpm/min
The Stroke: 3.5mm
Charge Mode: type-2 quick charge
2 Modules: Wireless / Traditional Version
Size: 32mm×131mm
Weight: 190g

Conclusion
Both the EMALLA EAGE and AVON wireless tattoo pen machines are impressive machines with an incredible ease of use. I'd say the EAGE machine is more adaptable since you can easily change the grip and the buttons to change voltage are super accessible.
The AVON machine, on the other hand, offers a stronger battery and is a bit of a lighter option. Ultimately, the choice between the two will depend on the individual needs and preferences of each artist, but both will be great choices.
We're very happy to have collaborated with EMALLA on these reviews about their tattoo equipment which we believe are a display of exquisite workmanship. We've also covered their cartridge needles and will probably be exploring other supplies in the future, so stay tuned.

Related Reviews