Today we're speaking with the incredible Mark, a tattoo artist that is taking the art of surrealism and fineline to the next level.
His tattoo pieces are so mesmerising because they often carry deeper meanings. They play with allegories and iconic imagery to transport the viewer into an imagined world, with hints of surrealism and expressionism.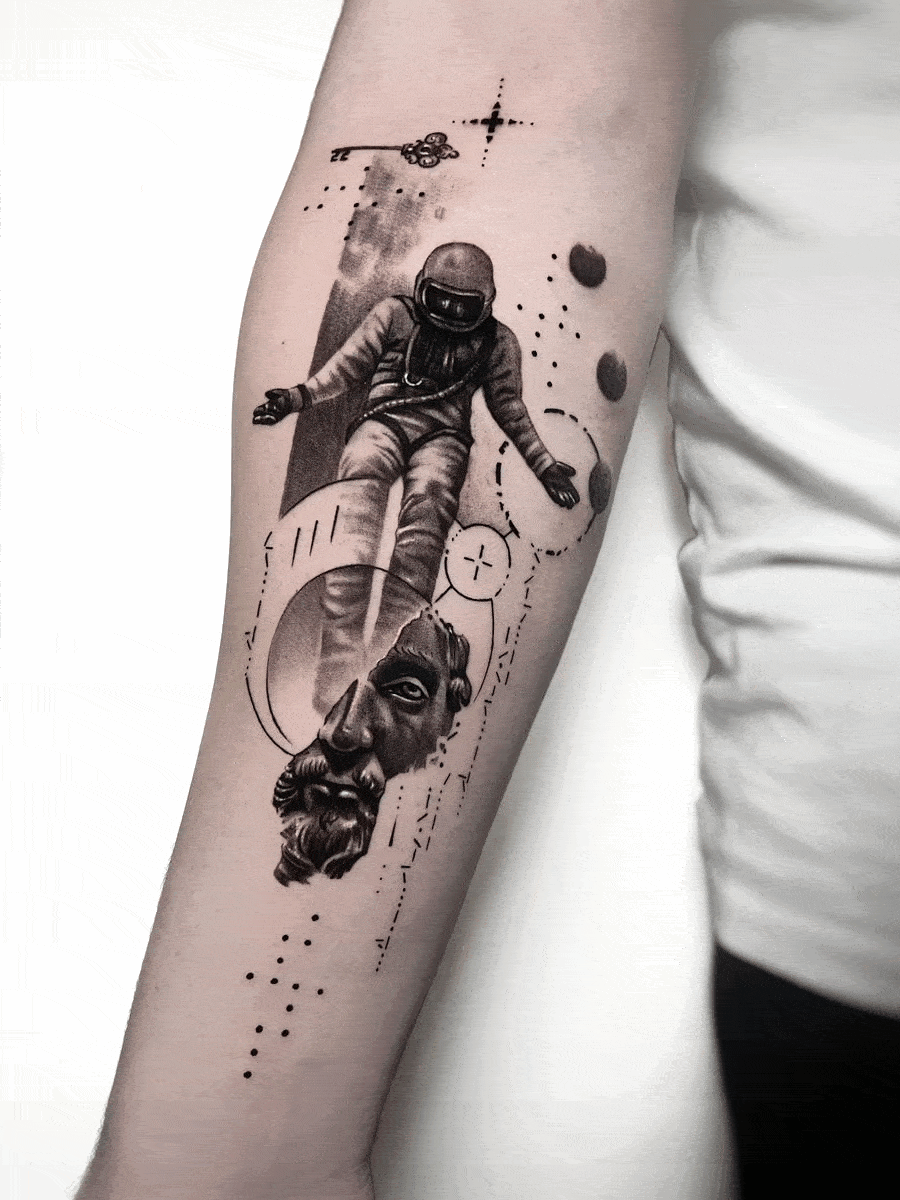 With a fan base almost surpassing the 20k followers, he's been steadily growing in popularity and it's easy to see why. His unique style mixes scientific schemes, mathematics and organic elements to create the stunning compositions you see below.
If there's a tattooist you should follow on Instagram, it's definitely Mark because he is a travel-artist, which means he constantly travels around Europe so it's very likely you'll see him eventually coming to a city near you.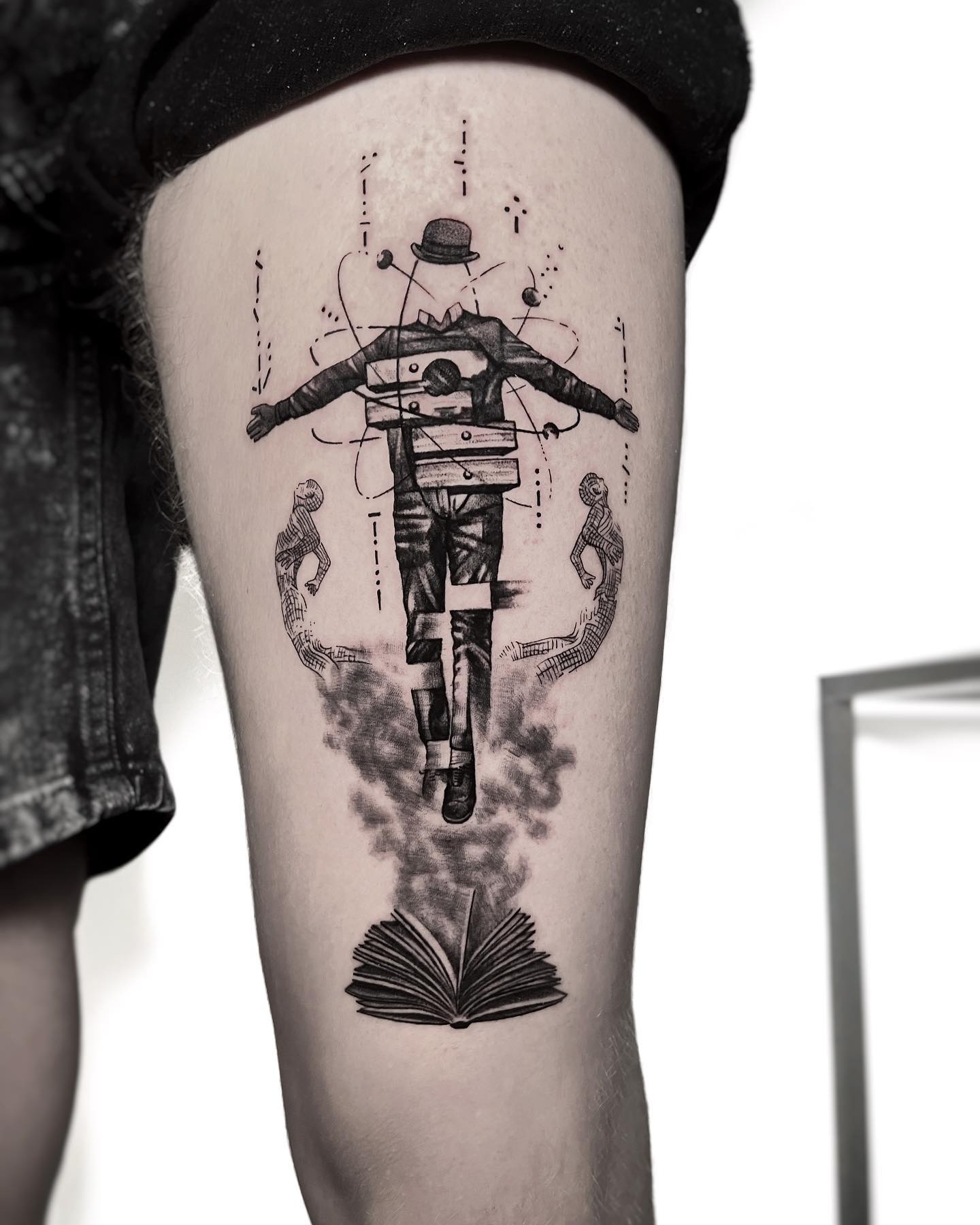 Let's get to know Mark, how his career and tattoo style have been developing and how he projects his art to evolve over time.

So Mark, what drew you to tattoos in the first place? And who were your influences?
A: First of all, there are some things like an opportunity of creative self-realization, freedom of workflow and independence that appeal to me. As I started to be interested in tattooing, I'd greatly been impacted by Dmitry Troshin's and Lil B's styles, they motivated me to develop as well.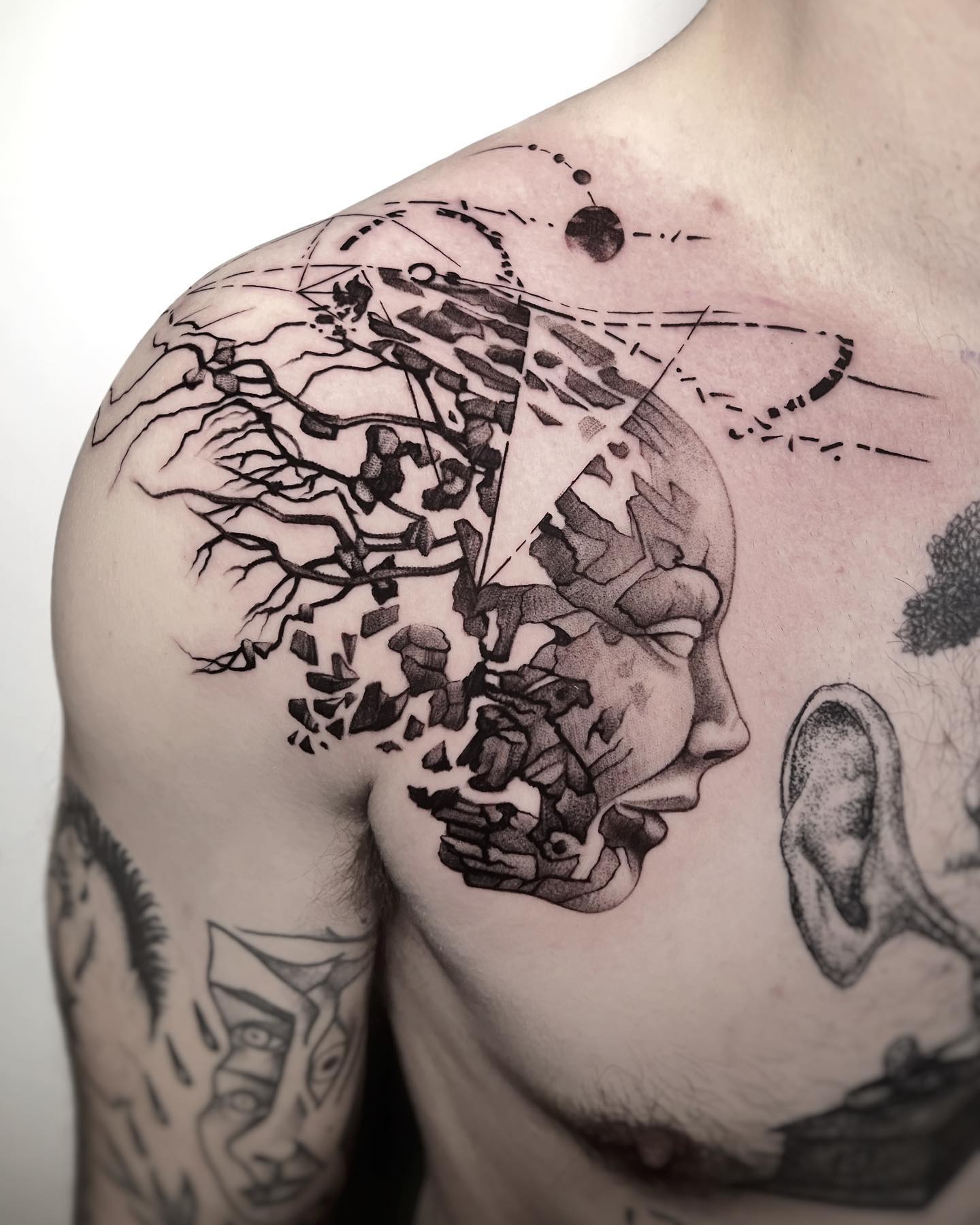 Can you tell us about the path you took to become the artist you are today?
A: This path has been lasting for about 5 years. During which time I tattooed in different styles, it gave me an opportunity to gain the experience and learn different techniques of tattooing. Concurrently I grew as an artist, looked for ways of expressing myself in tattoos, tried and keep trying to grow and make something unique.

Is there a piece of advice you
'
d like to leave to aspiring tattoo artists starting out?
I'd like that each aspiring tattoo artist isn't afraid of trying something new, has a desire to learn and makes some experiments and respects their customers and their requests.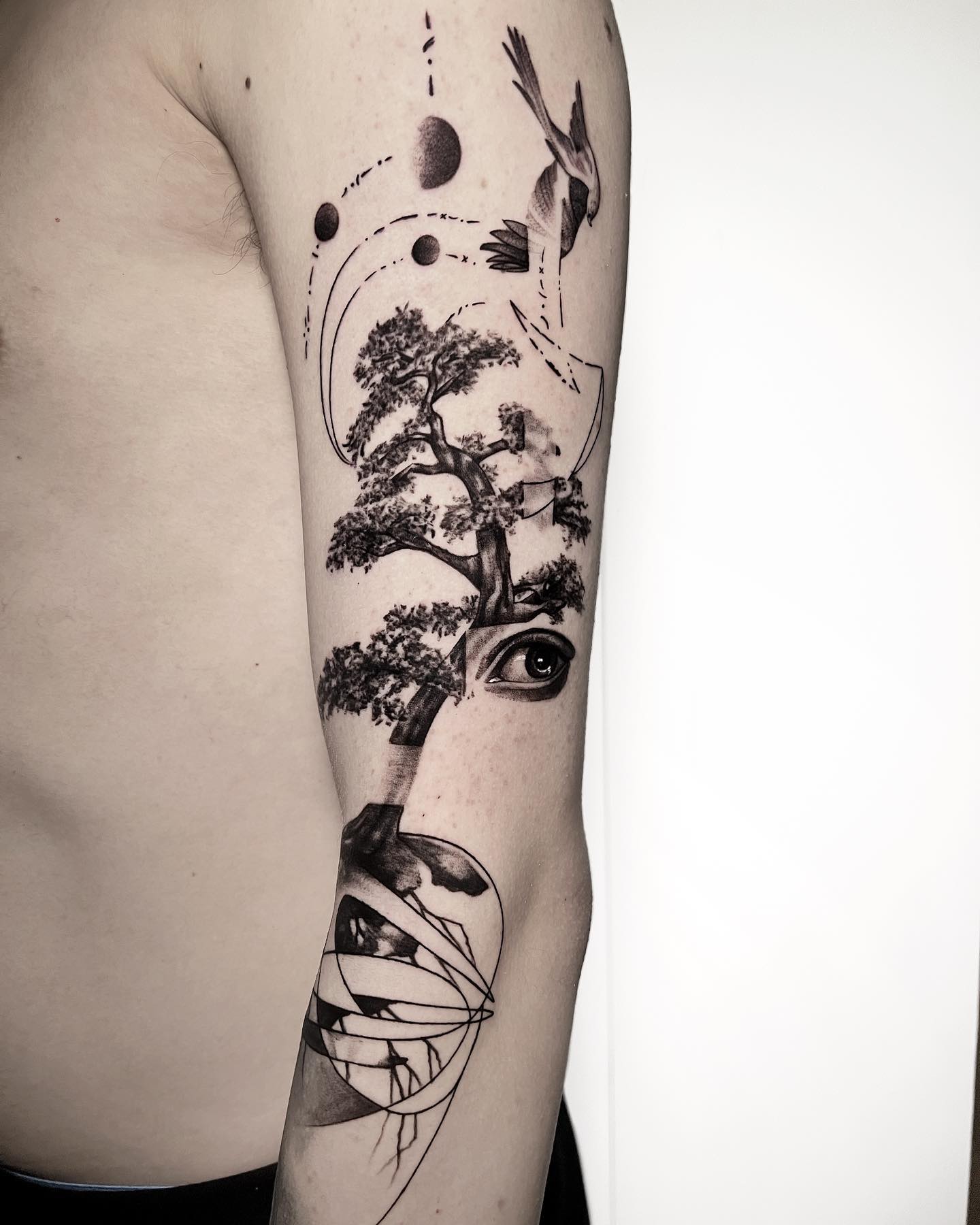 Abstract and Surrealism can be hard to imagine and design. Can you explain a little bit of the philosophy (or concept) behind your tattooing style?
Yeah, it's really complicated to imagine the eventual result of almost any of my projects even for me, let alone the customers who, as a rule, aren't aware enough of art. Philosophy of my style is a work with ideas, I don't try to make just a nice collage. I tell an exact idea or my customers' stories. That approach makes my tattoos be unique and valuable for both me and my clients.

Where does your inspiration come from?
I believe the best source of inspiration is art. Reading literature, visiting exhibitions, museums and watching other tattoo artists' works, you expand your worldview and you expand your horizons for the creation of something new.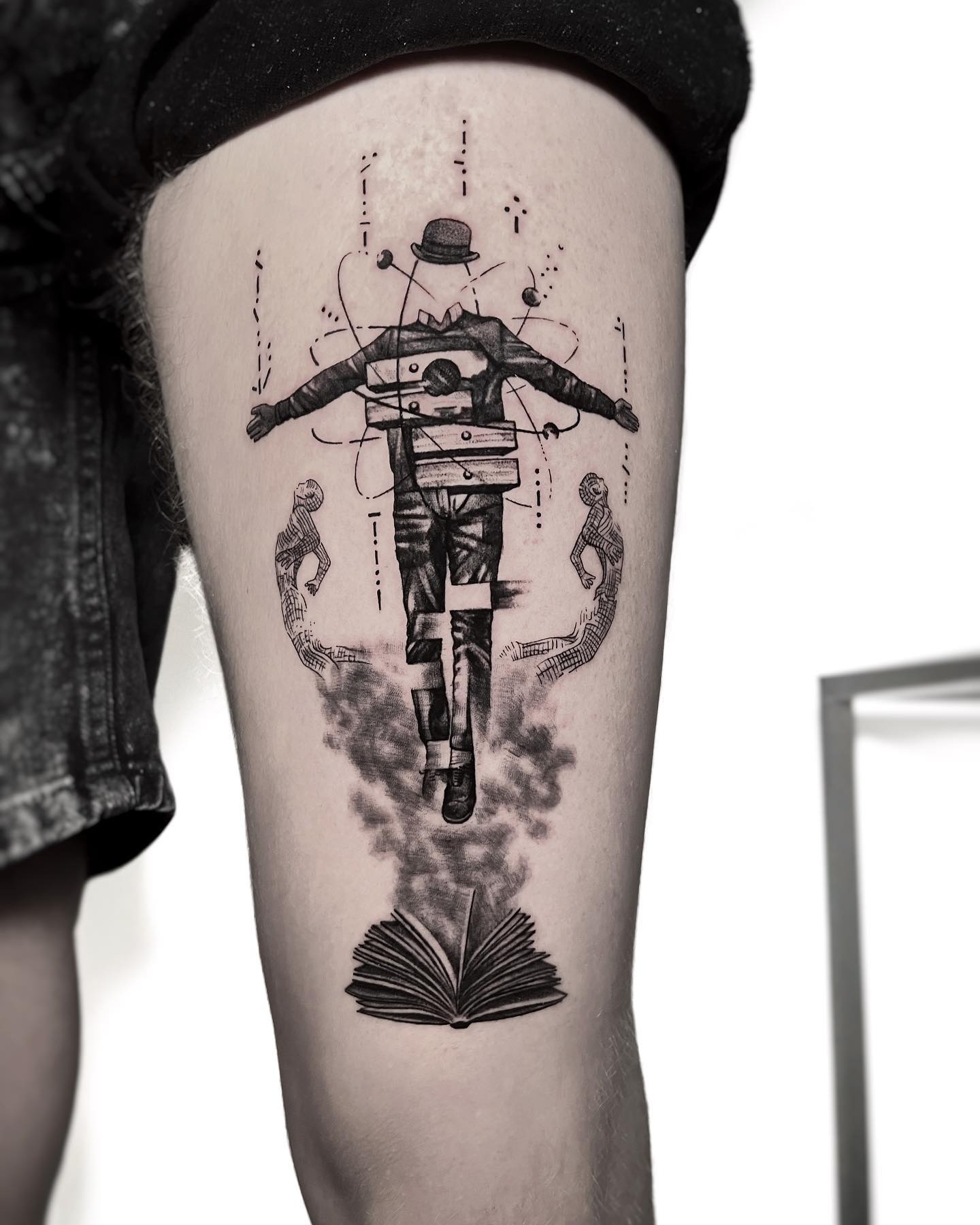 How
'
s the process of tattooing with you? Do people bring their own ideas and drawings? Or do they just trust you to do your magic?
I truly think that I feel lucky with my clients. We always get along and have a good time during the session and it doesn't matter where they come from, they're always great people. I believe you must be as open and friendly in communication with customers as possible so that a person loosens up, describes a desired tattoo in detail, its meaning, and trusts you.
If there's client confidence, the result will be the best, especially in my style where, in my opinion, trust is 99% of success because of the difficulty of composition that I create, there are a bunch of elements and technical details.
Each case is unique and, as a rule, it's collaborative work: sometimes there may be reference images from a client and I can use them to make a tattoo, in other cases a customer is limited to the description of the idea, or people choose my available designs or we make a project together by a dialogue and detection of particular request.

Did you ever have a tattoo project not going as you
'
d expect? ANd how did you deal with it?
Now I've got a large portfolio of work that is characterized by unique, integral style so usually it's the reason why customers choose me and the reason is my vision of their ideas.
Of course, even now, there are some clients who want to take the process of making the sketches and all ins and outs to get under control. However it's unacceptable for me because in my style it's impossible to create truly fascinating projects with no creative freedom.
Trust is the base of my work and it is the exact reason why my projects look like I imagine them.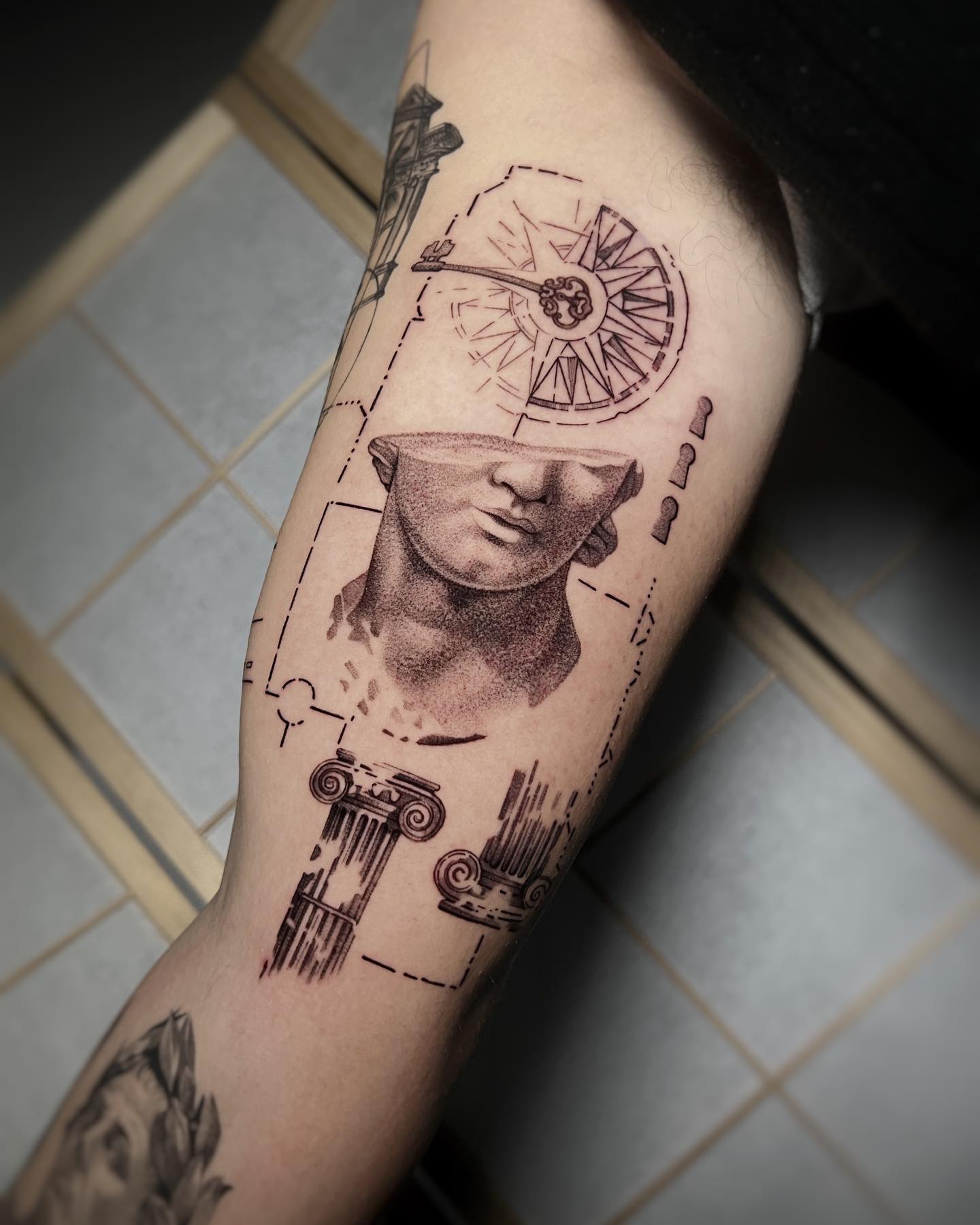 Is there any work you
'
re most proud of? And why?
There's no project that I'm proud of the most. I always do my best and give all of myself to every work and therefore every tattoo and idea is close and valuable to me in their own way.
Also there are some works that are valuable as the beginning of a new chapter in art: the first sleeve, the first tattoo with addition of a new element, for instance, color details, and etc.

How would you like your work to develop in the future?
Well, globally,I plan to keep working on the uniqueness of my style and spread it and want to make it well-known all over the world. No doubt, I need to work hard to succeed in it, including taking part in conventions, making interesting collaborations with other tattoo artists, brands, and etc.
There's still much work to do and I'm excited about this.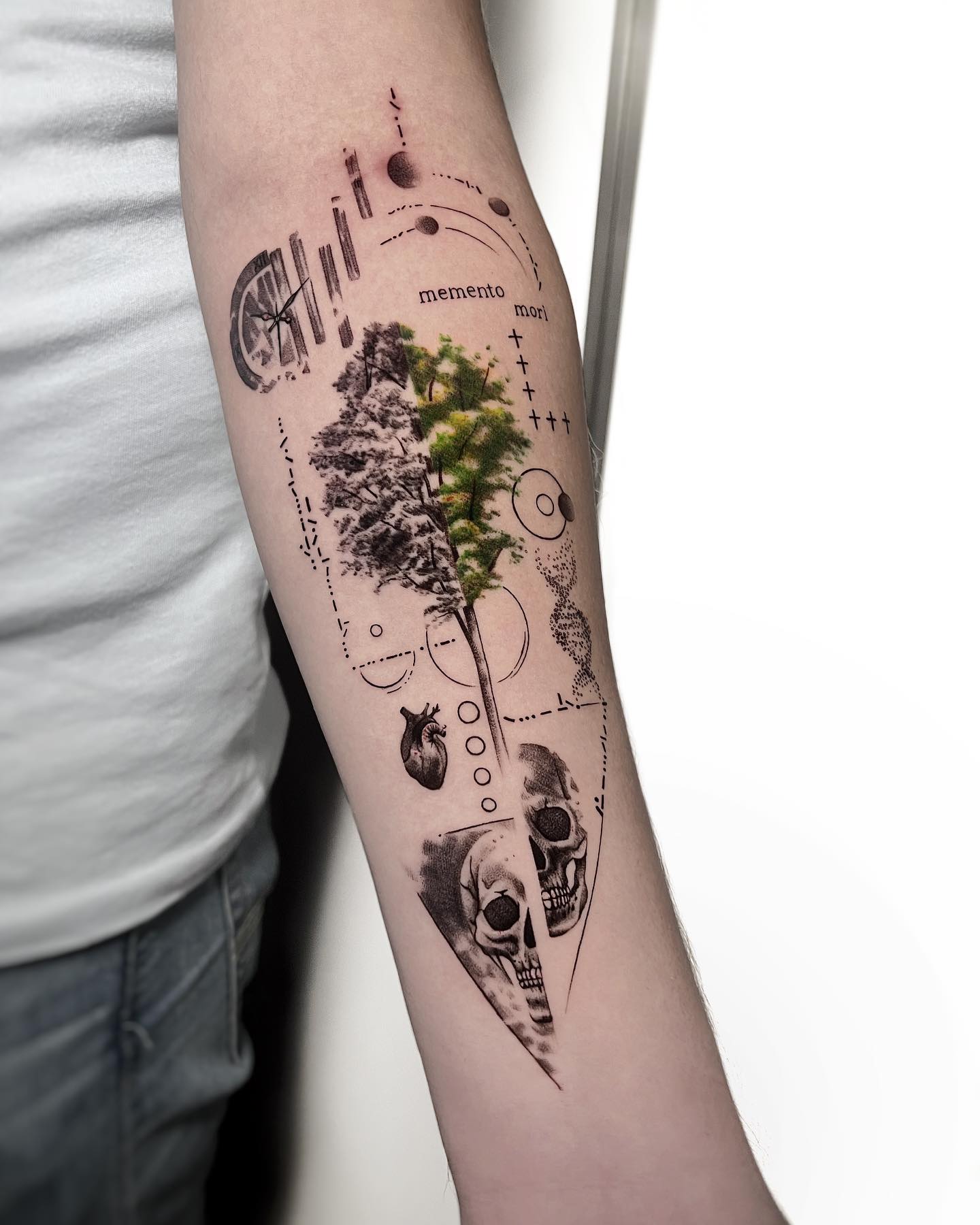 If you could leave a message to all your future clients, what would it be?
I say that a lot and keep going. If you want to get a real unique and valuable tattoo, you have to trust your tattoo artist who you've chosen. If it's me, you have to share your ideas with me, reference, describe your conception, but let me do my work according to my vision. Your idea - my realization. This is the best approach to work.
-------------------------
Make sure you follow Mark on Instagram @markd_tattoo and show your love for his art.

Did you enjoy this interview? And who would you like to see next? Request your favorite artists via [email protected]
More Content