Stigma Rotary is one of the most well-known companies in the world for producing several types of rotary tattoo machines.
They currently have celebrity tattoo artists that have signed a legal sponsorship agreement. Stigma not only makes incredible machines, but they also help to promote tattoo artistry. As a result, they have earned the respect of many well-known tattoo artists.
While some companies try to use this as a marketing technique, this German company has worked hard to ensure product quality. That is why its products are so well-liked and used around the globe.
The Germans are known for their technological and electrical innovations. They have cutting-edge engineering and state-of-the-art machines.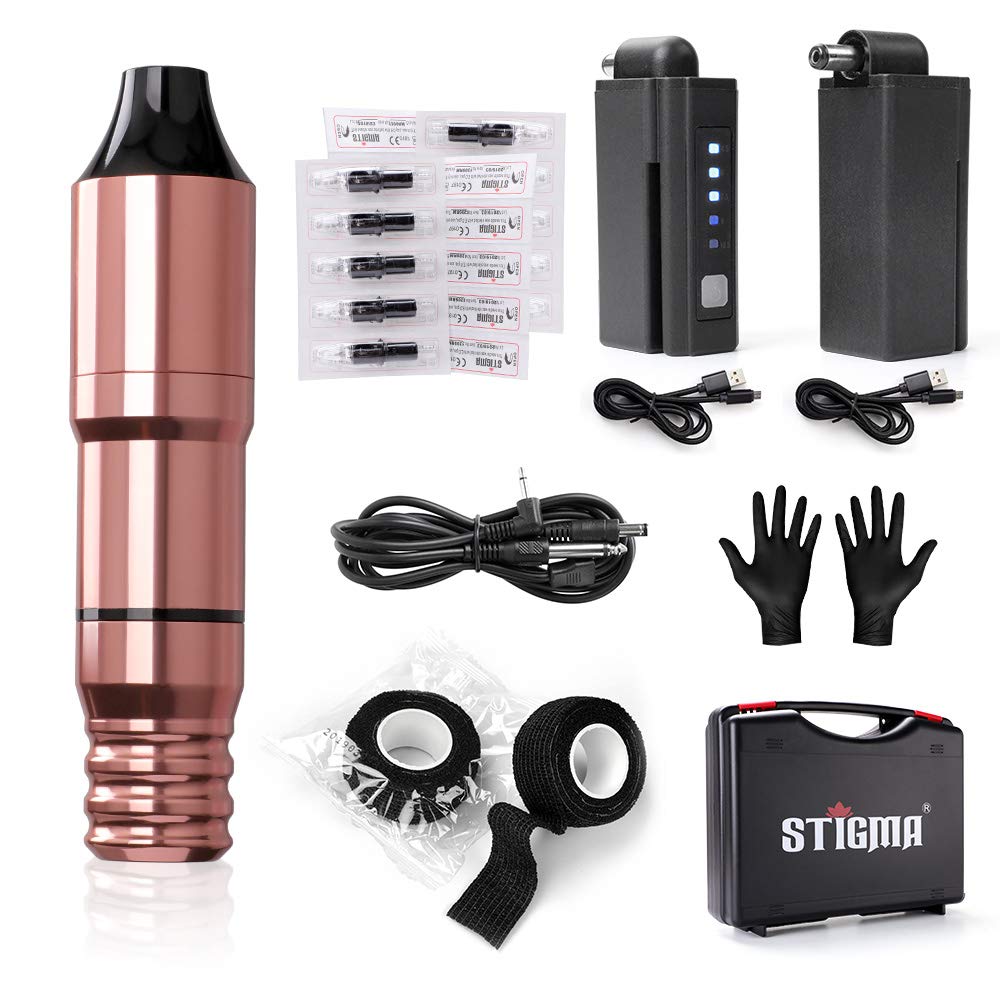 Let's Have a Look on Specifications of Stigma Rotary Tattoo Machine
It has a total of 11 different rotary tattoo machines, according to the Stigma Rotary Tattoo Machine Review. Each of the machines is distinct from the others. Shot, Thorn, Spear, and more machines have catchy names. The names have a military sense to them. They are, in fact, tattoo artists' weapons.
You won't have to worry about anything if you're a beginner when utilizing their machines. The same machine can also be utilized for commercial reasons. As a result, these machines are very user-friendly. You can use them precisely and comfortably regardless of your skill level.


Country of origin: Germany
But it's currently being produced in Crete, Greece
Petra Fangerow & Partners is the parent firm.
Artists such as Alex Schwarz are sponsored.
No warranty is indicated, but it is available.


Client : International
The majority of international marketplaces are available.
The majority of manufacturers build machines that are tailored to specific genres. However, Stigma's goal is to provide the same experience to all skill holders. It's difficult to adjust to a new machine category and become accustomed to it. As a result, they favor single-genre production.


EXCELLENCE AND COMFORT
This is the best feature. Their goods are made to be as comfortable as possible for both parties. Furthermore, rotary machines are well-known for perfecting practically any form of design, particularly complex ones.
LOWER NOISE
Rotary machines are disliked by many people because they are extremely noisy. Stigma, on the other hand, is steadily improving the quietness of its rotary machines. Stigma makes by far the quietest rotary equipment on the market.

Types of Tattooing Equipments
Beginner tattoo kits, intermediate tattoo kits, and professional tattoo kits are among the tattoo kits available on the market. You can choose any tattoo kit that meets your needs.
Beginner tattoo kit: The most significant items in a beginner tattoo kit are a tattoo machine, as well as ink, needles, and power supply. Beginner kits are designed for those who have just begun their tattooing journey and have not yet acquired a tattooing hand.
Beginner tattoo kits are typically less expensive than professional tools, yet they are nonetheless highly effective for beginners. Some starter kits also include tattoo skin, which can be used to practice tattooing.
However, there isn't much of a difference between an advanced and a beginner tattoo kit. Typically, two tattoo machines are provided, one for shading and the other for the lining.
The intermediate tattoo kit has more tattoo supplies than the beginner tattoo kit. In intermediate tattoo kits, the quality is modest yet superior. With this tattoo equipment, you can get tattoos on human flesh. After you've reached a certain degree of proficiency, it's a good idea to invest in an intermediate tattoo kit.

Professional Tattoo Kit
A professional tattoo kit is a more advanced tattoo kit. This tattoo package included top-of-the-line tattoo equipment and other tattoo supplies.
These kits are designed for advanced and experienced tattoo artists with multiple years of experience. These kits are extremely pricey, but they are the best in their class. Beginners should avoid purchasing these kits because they are prohibitively expensive and inappropriate for them.

How to Pick the Best Tattoo Kit
When it comes to selecting the best tattoo ink, there are various factors to consider. The most significant consideration will be determined by your requirements and needs. If you're a professional tattoo artist, you'll need high-end equipment, however, if you're a beginner with limited experience, you'll need inexpensive kits.
Here are some things to think about while selecting a Tattoo Kit:
Check the material used in tattoo machines and other accessories at all times. Invest in a tattoo machine constructed of brass or stainless steel. Plastic accessories should be of good quality. These are long-lasting and well worth the money.
Check your tattoo machine
When it comes to tattooing, the most vital tool is a tattoo gun. As a result, always double-check how many machines you'll receive. The greater the number, the better. Check the quality of the product and the materials it is constructed of. They should appear to be powerful and long-lasting. They can also be used for shading and lining without generating any problems.
Quality and quantity of the overall kit
After inspecting the tattoo machine, always examine the overall quality of everything you get in the tattoo. Consider the quantity of ink you receive. Do you get a set of high-quality lining and shading needles?
Check the quality of the power supply once more, and see if you can get a foot pedal to easily operate your tattoo guns while working or practicing. Examine the quality of the other items you receive.
Case for the kit
A tattoo kit contains hundreds of items, ranging in size from huge to little, all of which are vital in tattooing. So make sure you acquire a high-quality case to keep all of your tattoo equipment and instruments safe and organized.
To preserve your tattoo equipment from everyday wear and tear, you'll need a robust and durable case.

Final Thoughts
After reading these Stigma rotary tattoo machine reviews, I'm confident that you'll have a good understanding of the company's operations. You can now make an informed selection regarding the brand to use for your specific equipment. To begin with, or even for pros, stigma would be a good place to start.
So, no matter what point of talent you're at, you'll be able to select your ideal device from Stigma's 11 limited-edition devices. To be sure, check them out.