If you're a tattoo artist your cheapest, most lasting marketing tool is your Instagram. It acts as a portfolio, social proof and word of mouth. People can find you via referrals, collaborations, hashtags and stories.
And when someone checks your profile, that is the moment to grab them and convert them into clients.
To help you with this process, here's a detailed guide on how to turn Instagram visitors into clients. From first speaking with the client, to taking the photo, to painting the story.


Create a visual identity
Realize that Instagram is not just a tool where you upload photos
It's a canvas where you expose your art: It's where your future clients create a connection with you and your work.
By creating a personal brand, you'll defining how to communicate with your clients, the tone and mood. It will give you the materials and the capacity to have a consist visual identity.
The following topics will help you define it:
Purpose
Why are you a tattoo artist? And what do you enjoy tattooing?
Communication
Who are your clients? And how do you want to address them?
Style
What does your style portray? Is it New School? Realism? Anime? And what does that say about your vision of the world?


Your brand is there so you can communicate consistently and visually – both via the tattoos you make and via your Instagram's organization. If these two are aligned, people will start recognizing you instantly. For this to happen, you will need the following:
Logo or signature that matches your personal brand. It can be present in every picture you upload.
A typography (font, size and color). Commit to using that typography so that your visual identity is unmistakable.
Get a few icons with a level of complexity and color that match your brand.
Style of photos. Maybe you do dark photos. Maybe you do them white. Maybe it's always a close up, maybe it's always with an unfocused background. Maybe they are always dirty, maybe they are always natural with clients smiling. Anything goes, as long as it remains consistent and matches who you are as a person and artist.
Here's a quick video with tips to help you define your personal brand.
Examples of amazing personal brands
They are all completely unmistakable and completely memorable.




Be consistent while painting a story
What separates world class artists from average artists is commitment and consistency.
You might feel tempted to upload the photos of your tattoos as they come…. Don't. Use the opportunity to paint a picture.
Take the time to prepare them: work them in photoshop so that they are part of a collection and plan when and why you'll post them. They don't have to be posted in chronological order - hold them for as long as necessary, until you find the perfect framing / timing to post.
Make sure the pictures maintain the same background structure (which can be black, but can also be drawing, or a faded image, or the topic of the tattoo…).
Here's a few examples of how that can work well:
Léo Dionizio - Does mostly tattoos in illustration style with watercolor and dotwork elements. Generally uses a minimalist background, but when that isn't possible, blurs the background in order to bring attention to the tattoo.

Okanuckun - Uses a dark background and treats the image lightly to decrease saturation. Fits perfectly the style (mostly minimalist, sketch and geometric using the color black)

Iván Pelegrín Medina - Always removes the background in order to focus the attention on the piece in the center. Adds his signature, website, studio logo, sponsors, etc. The images are generally very colorful due to the style (Anime) and sometimes the background is black and other times has a reproduction of the piece.

There is a ton of other techniques you can implement. Here's a few ideas:
A white background
A specific wallpaper background
Taking a artistic approach and photographing the person with the tattoo (similar to advertisements to watches) and showing the close-up of the tattoo when people side scroll
Your probably noticed that all these images have a constant distance to the tattoo, constant quality, constant style.
Painting a story means you treat your Instagram as a whole, who is growing organically and not just a set of photos. Examples you can put into practice:
Organize your photos into rows by colors: One row of black and white photos intercalated with another of colored photos. An example:
Organize your photos into rows by processes: Each photo is a phase of the process: First the drawing (or idea), then the stencil and then the final product.
Cut your best works into several photos: Post them together and in the right order so that you create an image that spans across 2 or even 3 rows and facilitate looking at the details. An example:
Each photo encapsulates the process: The main photo would be the final process once inside the photo, visitors could side scroll to find out the deconstruction going backwards (final tattoo –> video of tattooing being done –> stencil on the skin)
Be consistent and clients will want to be part of your canvas.


Get a course on photography
Investing on your career has never been so cheap and quick.
You don't need to be an expert on photography. But you do need to know how to take a photo. Learn the rule of three, focusing, lead room and head room. These are some of the techniques that will make a difference in your photography and are super quick to learn.

Having all that information here would make the article way too long so I'll link to an amazing course on photography here. We have no affiliation with the course nor the website. Feel free to find another one that better fits your needs.


Designate a physical space for photo sessions with proper lighting
Never ruin a perfect tattoo with a poor photo.
Every tattoo studio should have a zone dedicated to taking pictures. All you need is a table (if we're talking about photographing legs and arms) or a wall where people can stand (if you're photographing tattoos on the back and neck).
Using the same space will guarantee you keep your photos consistent and with quality. If you can't do this, consider using one of the techniques mentioned above (like blurring the background).

Don't use paper towel or the tattooing table as your background. If you can't designate a space, consider having a paperboard on the table (as the background) so it's easy to photoshop it out later.
The course on photography above will teach you what you need to know about lighting.
Here's a photo with bad lighting versus a photo with good lighting: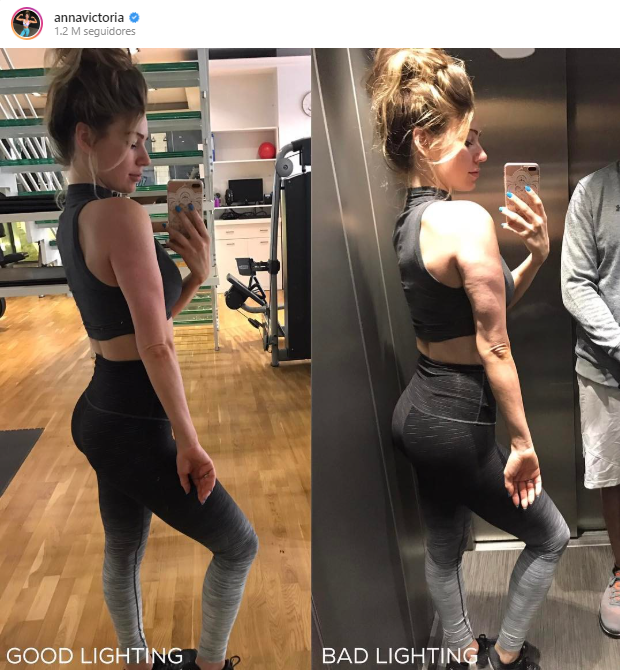 Credits to Anna Victoria

Basic lighting equipment costs 25$ and will make all the difference.


Keep track of your works and how they evolve
Your masterpiece isn't over the minute you drop the last bit of ink.
Tattoos keep developing over the years. Depending on your technique, dedication and ink choice, the ink can stay longer and sharper, or fade quickly and, even worse, blowout.

It's your job to make it as lasting as possible. And by photographing your older tattoos, you'll be showing your future clients that your hand is good and your ink is lasting - that they can trust you.
There's two easy ways you can keep track:
Upload the photos of the tattoos to google drive once you've taken them and it will tell you exactly when one year (and two, and three…) has passed.
Another way is by setting a remind on the calendar to contact the client.
Have an email template ready so you can call your clients back to the studio for a photo session after X year(s). You can even offer your clients an incentive to come back.
This won't be necessary if it was a quick walk-in. But is especially important if you're doing high-end work.
Create a system
If you know what you'll need, you'll be able to be consistent.
Despite being a tattoo artist, you're required to do a lot of non-tattooing activities. The best way to go about it is by having a system in place. That way, you won't forget important steps and will be always on top of your priorities.
Here's a suggestion for designing a system:
Organizing the process

When initiating a new work for a client, open a folder on google drive. On that folder, I'll put every single item related to that client.
Always ask clients for their ideas first and save those materials.
Ask permission from your clients to get photos from the tattooing process (and define with them what is acceptable – body, face, etc. Sometimes you'll be tattooing near the genital area - a photo of that will require consent). You can even request it via email if the first contact was initiated by email.



Get footage of the process

A picture of the body part with the stencil on.
Some videos of the tattooing process.
Get a photo session of the final work.



After the tattoo

Ask the client to come back in three weeks' time so you can get a better photo of the healed tattoo. Maybe throw in a discount on the aftercare products if they promise to come back.
Work the photos – Open photoshop and adjust background, maybe incorporate your signature, apply your usual filters.
Post the photos as part of a story with that client. Maybe three photos in a row as suggested above.



Work on loyalty

Set a reminder on a calendar to warn you every 3 years to take another photo of the tattoo.
Send your client an email sharing the photos you took and tell them to count on you for future projects.
These are all non-tattooing activities. Maybe you don't like what it entails (communicating with client, defining the budget, taking the photos, enhancing them, asking for healed photos…) – you can always find someone who likes doing it. A receptionist, a friend who likes to take photos, an apprentice in your studio who currently has less work. Some of the best tattoo artists I know are part of a team. That team gets the experience going for the client.
In sum
Getting a tattoo can be a romantic idea...and customers are looking to fall in love. Make your photos spark that romance. Make every visitor of your Instagram proud to be getting that experience with you.

Find a wide variety of amazing examples by heading over to Tattoos Wizard. Get inspired by the best.