Lindsay Joseph is the breakout story in the tattoo world all because her tattoo designs were being priced at $1,600, while also giving the option of paying $6,000 just for the design.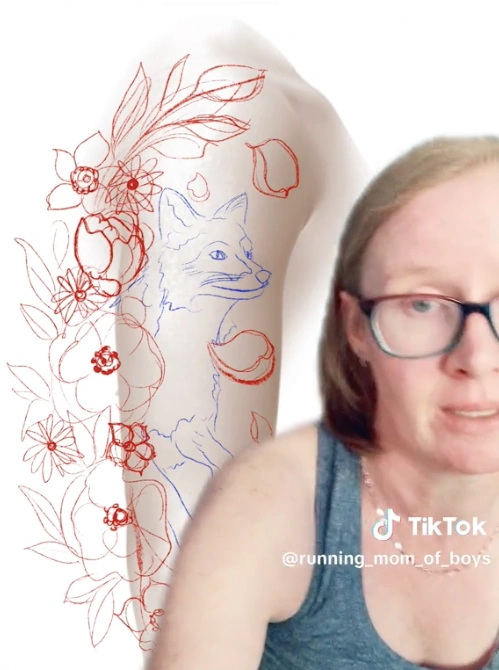 Although this story has put a spotlight on her studio Lucid tattoos in Cambridge, Ontario, the real issue is not the piece itself, but that most people have no way of knowing how much they should pay for tattoo designs and tattoo consultation.
So here's a guide on how much you should pay and how not to get scammed.

How much should you pay for a tattoo design?
If you're getting a flash design, you can pay anywhere from 15$ to 75$ for the flash, based on the complexity and uniqueness of the drawing.
If you getting a custom and original design, it can go anywhere from 50$ for a small tattoo to 700$ for a full back. If anyone asks you for >1000$ just for the design, they are probably ripping you off.

Example of what you should receive with Custom Tattoos
First of all, it's perfectly fine to get a tattoo design before scheduling your session with a tattoo artist.
This can help you put your idea into the action and get a feeling of how it will look on you.
So yes, it's normal and healthy.
If you buy a tattoo design from a professional, here's how it should look like and be delivered to you:
This process is achieved by going back and forth with the client to understand their needs, goals and ideas for the project.
If you want a custom and unique tattoo design based on your idea, Tattoos Wizard can help you out. Just fill out the form here and you'll receive and quotation for your tattoo project. You can even request help with the tattoo planning.

Flash Tattoos
These are generally cheaper because they are already made. You just buy the design and get either the design or the design plus the stencil for the artist to apply.
Here's some examples of a Wolf in a watercolor style and a Wolf in a tribal style.
You can get hundreds of similar designs here and they cost from $25 to $75.

And how much should a tattoo consultation cost?
Tattoo consultations should be either free, or included in the price of the tattoo itself.
You're basically getting a 30 minutes talk with your artist to explore ideas and talk about what you want to achieve. Most of the times there aren't even designs to look at.
Still, some tattoo artist get hundreds of tattoo requests per month and need to optimize their time. Can you imagine giving free consultations to clients that end up not advancing with a final tattoo?
In cases you're contacting a popular artist, it's natural to pay a consultation fee. Nevertheless, those should range between $50 to $200 per hour. It depends strongly on the artist's experience and reputation, the location of their studio and the length and complexity of the consultation.
But now you now:
The correct practice is that this fee should be applied towards the cost of the tattoo if the client decides to move forward with the design.
#tattoogate #tattootips #tattoo

Similar Content