We analyzed the 10 best Coil Tattoo Machines for sale at a reasonable price. Here's the list with the pros and cons so you can decide what fits you best.
The frame is made of iron and has a standard tube vise. They also have great customer service. If you are dissatisfied with their product, you can always inform the team and they may even refund the money back. This is a liner plus a shader but you can buy each of them separately as well.
The coil has a little dull hit, so if you need something stronger, you may have to replace it. The product also doesn't contain any Mast logo, so, we don't know if it is authentic but it works perfectly.
Pros
Sturdy and solid brass binding
10 wrap coils and 47uf capacitor
Lining and Shading
Great customer service
Cons
Dull hit
Doesn't have the logo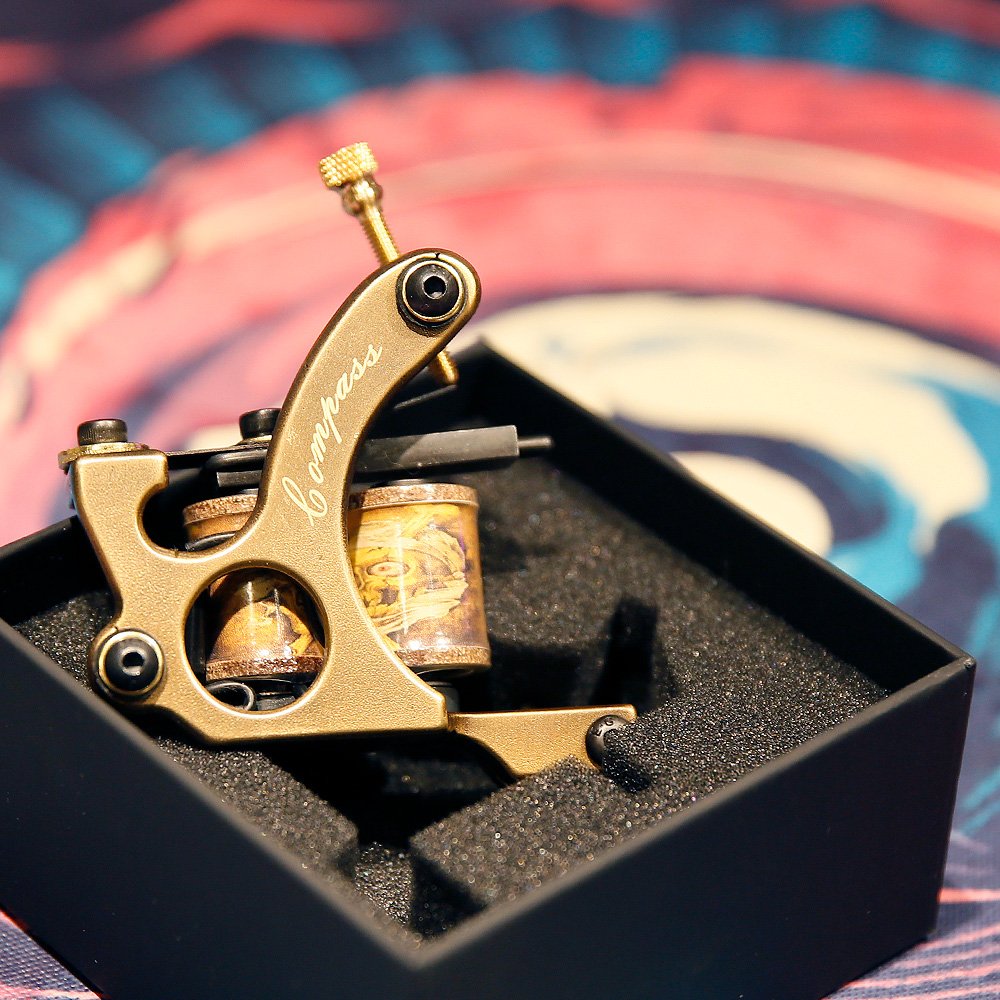 DragonHawk is a very well known brand for Brass Coil Tattoo Machines as well as other tattoo equipment. It is built of a billet brass frame and consists of a CNC cut. This is also designed with a standard tube vise. It also includes a shader as well as a liner. The shader can accommodate 10 wrap coils whereas the liner can accommodate 8 wrap coils.
The shader runs at a 120Hz frequency, while the liner runs at a 150 Hz frequency. Both have a power of 8V. They, too, have amazing customer service and will refund your money back if you are not satisfied with the product or service.
The coils, however, may start overheating and the product is not assembled correctly. Thus, you have to check it out before using it and adjust it constantly.
Pros
CNC cut
Liner plus Shader
10 wrap coils
Great Customer Service
Cons
Coils Overheat
Adjust assembly constantly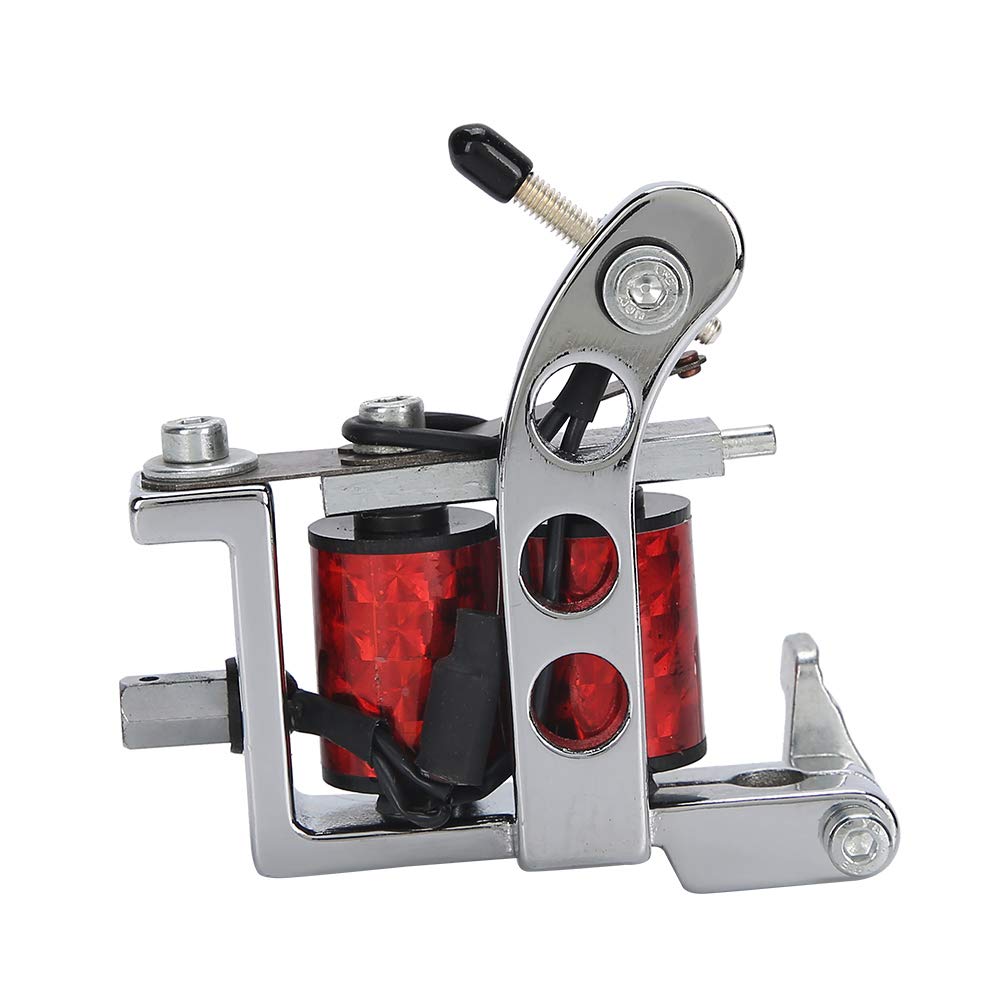 This is a Professional Coil Tattoo Machine, just as the name suggests. It is a liner as well as a shader machine. The hit on this coil machine is quite strong but the speed is medium. If you want a faster speed you will get a coil with very little hit and you wouldn't want that. It has a very stable and sturdy design.
It works well due to its 10 wrap coil accommodation. It also consists of a 47 UF capacitor, which makes it suitable for a hook type tattoo clip cord. It works perfectly fine with any type of needle or handles, whichever would be convenient for you.
It is also the perfect product for a tattoo artist as it is easy to use. It also comes in various colors ranging from blue, purple, and red to gold and silver. The voltage on this one maybe a little less as compared to others but it works just fine. It also gets a little heavy to use if you are not accustomed to tattoo machines.
Pros
Various colors
Strong hit with medium speed
10 wrap coils
Suitable for any type of handle and needle
Suitable for hook type tattoo clip cord
Cons
Less voltage
A little heavy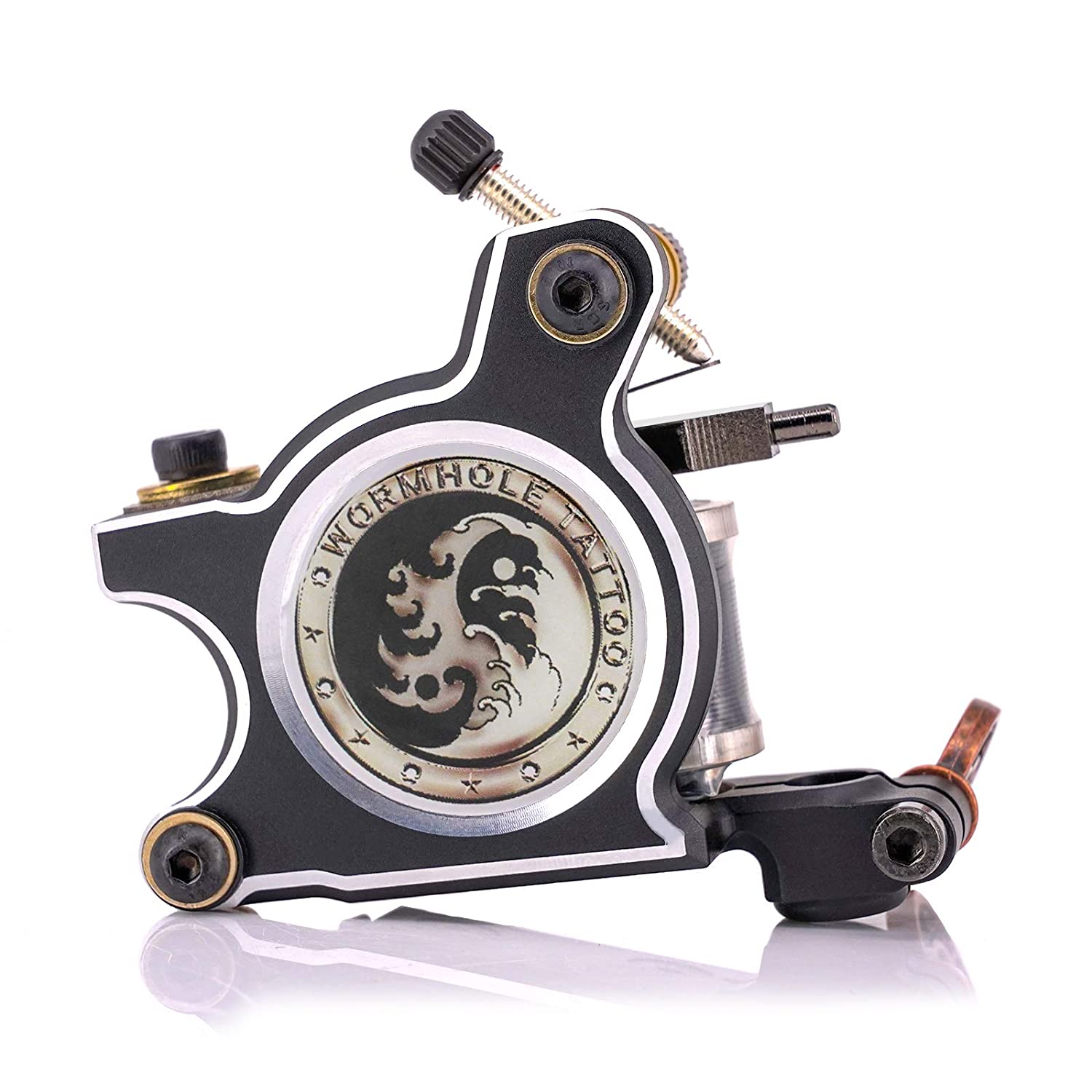 Wormhole tattoo machines are great products. This one can be secured with any type of handle or needle that is convenient to you. It is designed with Aircraft Grade Aluminum and this makes it light in weight. It consists of 5 to 6 CNC frames which make it quieter and exquisite. The liner can accommodate 10 wrap coils.
The coil core is made up of high carbon steel which makes it more durable and gives it longer service life. The spring is made of manganese steel with strong elasticity and strong fatigue resistance. They also have great customer service. It is heavier than other machines and the surface is not scratch resistant.
Pros
Can use any type of handle of the needle
5 to 6 CNC frames
10 wrap coils
Long life
Strong elasticity
Cons
Heavy
Not scratch resistant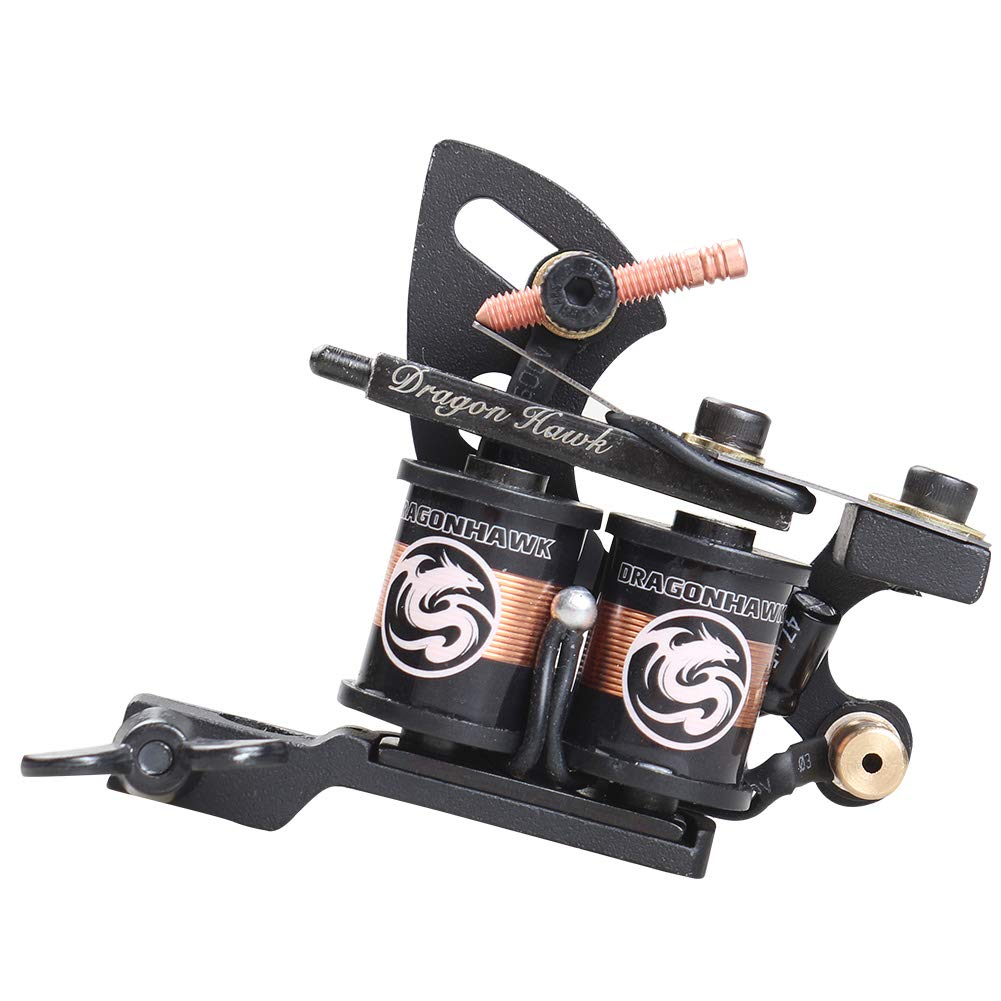 Dragonhawk is also here proving its greatness in the coil tattoo machine department. This one is designed with a cast-iron frame. It can also wrap up to 10 coils and the best part is that it can be used as a shader from the same gun itself.
This machine is great for beginner level or advanced level tattoo artists. It is made of high-quality material and thus, lasts longer than others. The spring is highly elastic and anti-fatigue. You need to tighten up some of the parts in this one as well. It may also start to dry up faster.
Pros
10 coil wraps
Liner and shader in one
Lasts longer
Cons
Some parts need to be tightened
Dries up faster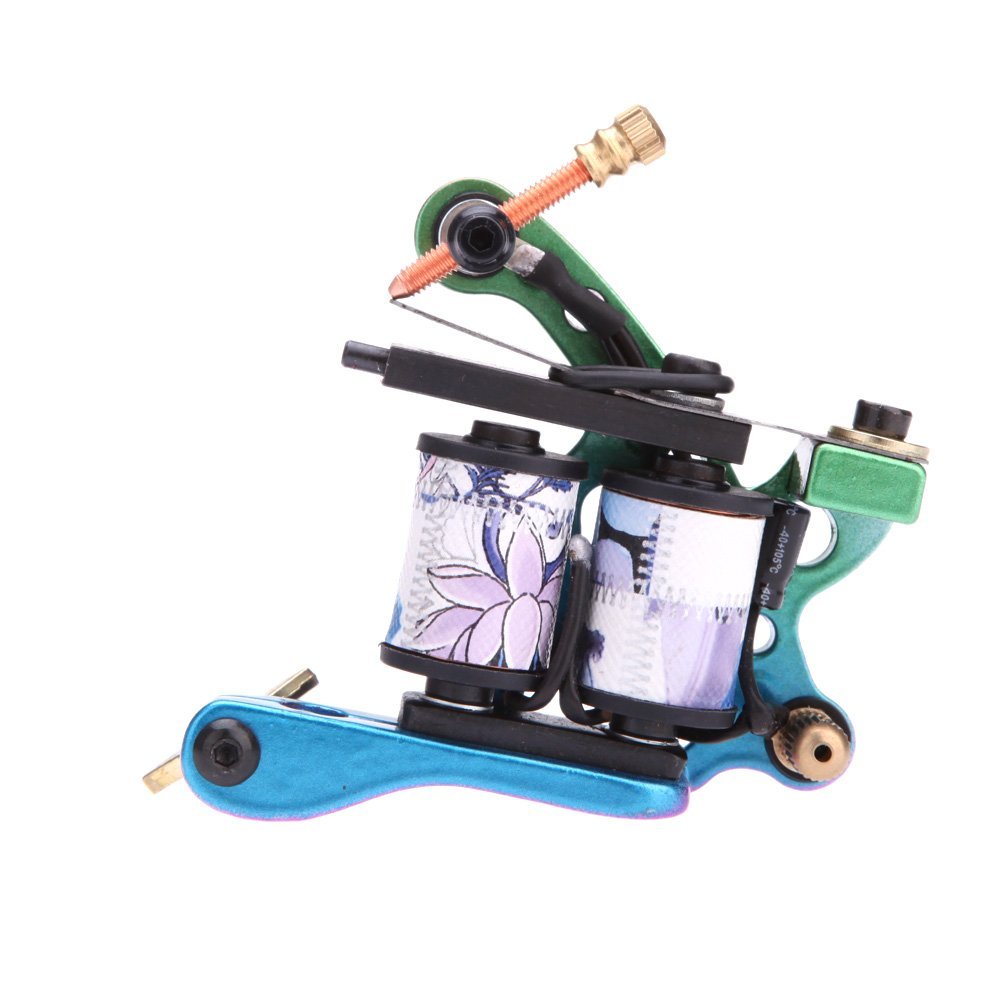 The Anself Pro Tattoo Machine has the best feature of rainbow colour. It is made up of high end but low carbon steel casting. The brand gives you an option of a liner as well as a shader. It has a very unique design. The spring is highly elastic and works for a longer period. The amateur bar is an excellent conductor due to its iron quality.
It is completely stable and can thus work for 8 hours at a stretch without heating up. Both the liner and the shader can accommodate 10 wrap coils. Thus, it is extremely suitable for any amateur or experienced tattoo artist.
The inner parts of this machine are a little loose, so you will have to tighten them up and it also is not suitable to access other needles or handles if you want to. But overall it is a great coil tattoo machine.
Pros
Rainbow color
No overheating
Highly elastic spring
Excellent amateur bar
Cons
Parts need to be tightened
Not suitable for different handles or needles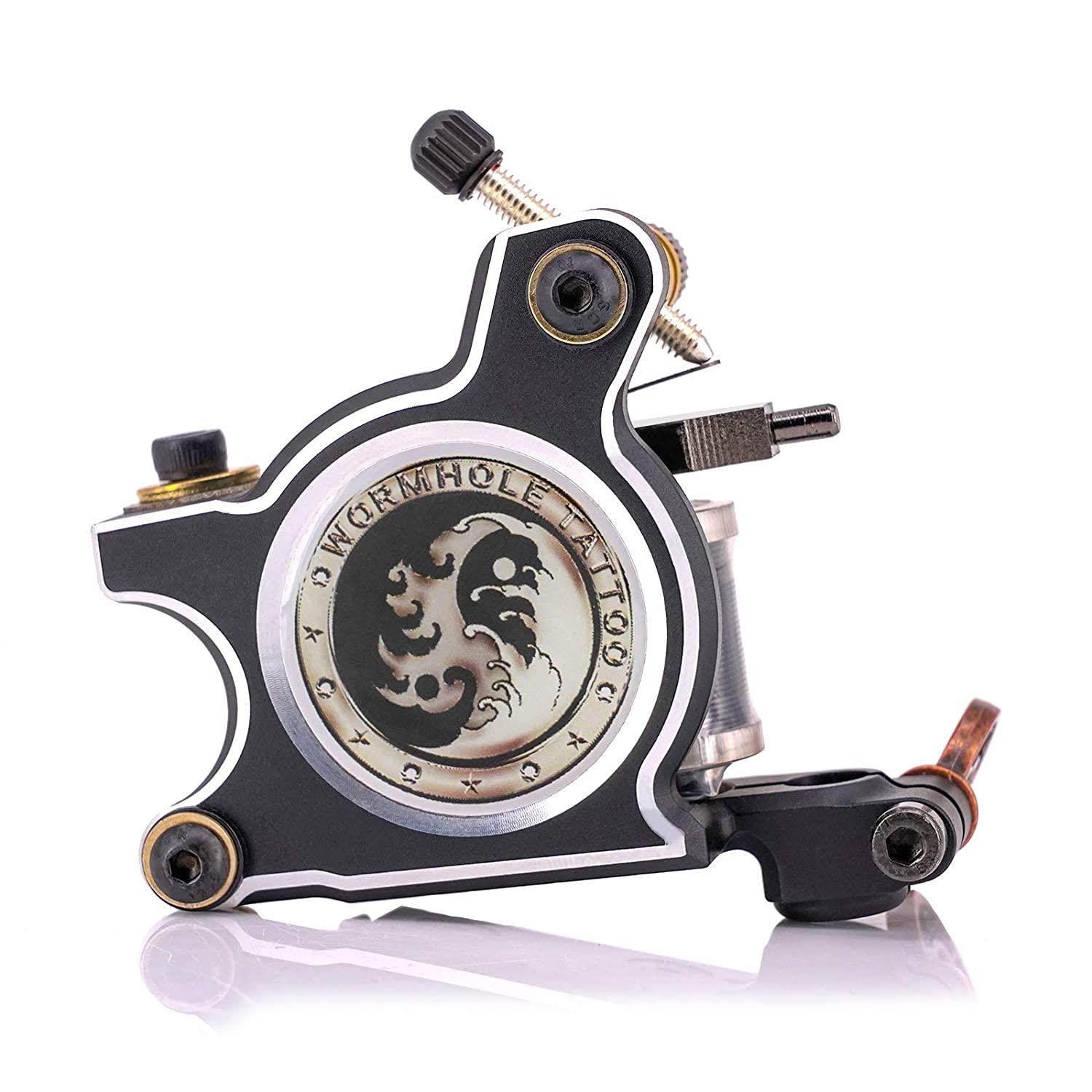 Once again, Wormhole is here, to prove that it is truly one of the greatest brands regarding a coil tattoo machine. It is a liner and can be matched with any type of handle or needle. It is also made of aircraft-grade aluminum and has a built-in 5 axis CNC frame.
This makes the machine gun very smooth and quiet while operating. The liner can accommodate 10 wraps and is highly durable. The spring is also extremely elastic and can make the machine last for more than 8 hours without heating up.
The sterling silver contact screw makes the whole tattoo gun more conductive. It has a 47 UF capacitor which is the highest in any machine. They also have great customer service. It is a little expensive and since the speed is high, the hit on this is quite dull.
Pros
5 axis CNC frame
Suitable for any handle or needle type
8 hours without overheating
47 UF capacitor
Great customer service
Cons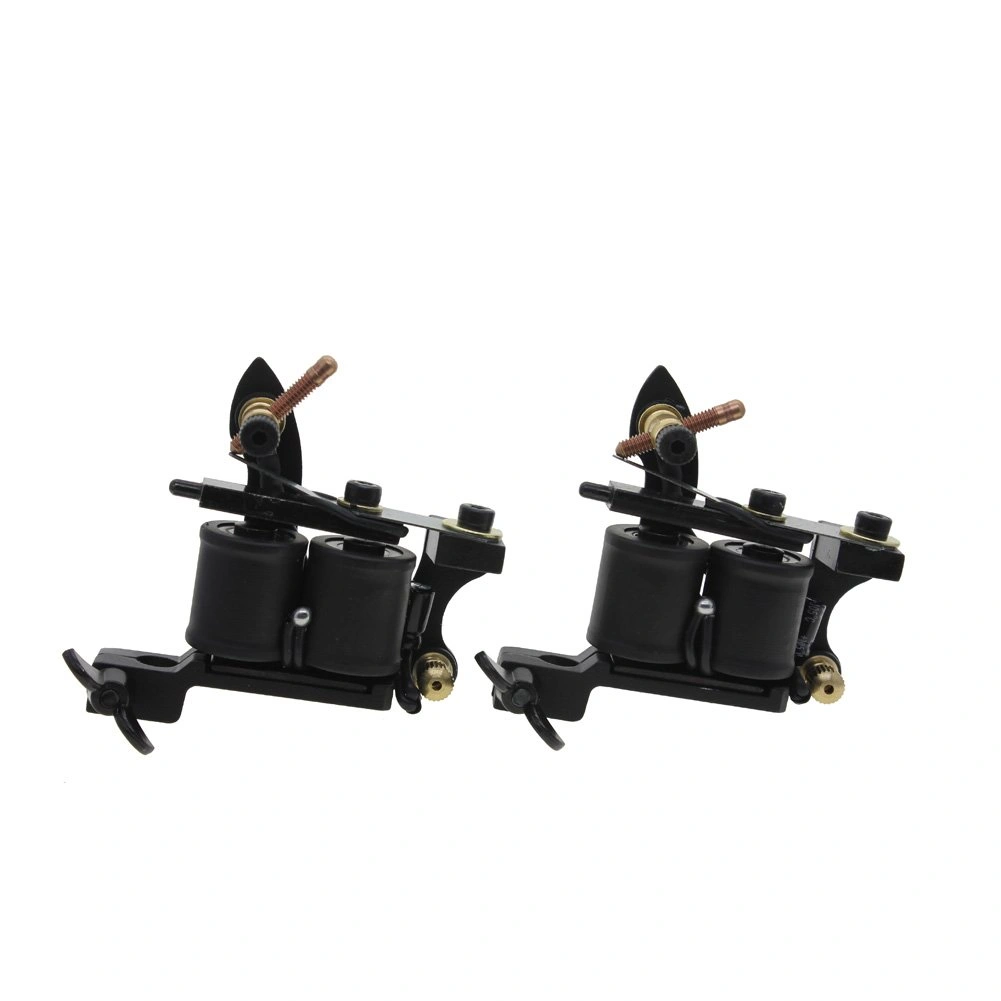 RedScorpion is an amazing company and a known brand for tattoo equipment or whole kits. Their tattoo machines are usually very sturdy, just like this one. It is made of alloy and includes a shader and a liner. The liner can wrap up to 8 coils whereas the shader can wrap 10 coils.
This coil tattoo machine is extremely stable and has a uniform speed. It reduces the damage to your skin, giving you smooth and easy lines. The shader is smooth and easy to color with. This machine works without overheating for as long as 8 hours. The machine works with low noise and the spring has high flexibility. It is extremely strong and doesn't get ruined as easily.
Also, the customer service provided by this brand is very friendly. The given link offers 2 pieces of tattoo machines, but you can also check out one if that's what you are looking for. Although, the tube cap on this one strips off easily. Also, the liner and shader look the same, so you have to figure out which one of those performs what function.
Pros
10 wrap coils
Smooth and easy lines and color
Reduce Damage to the skin
No overheating
High flexibility in spring
Cons
Often unavailable for purchase
Cannot differentiate between liner and shader
Tube cap strips off easily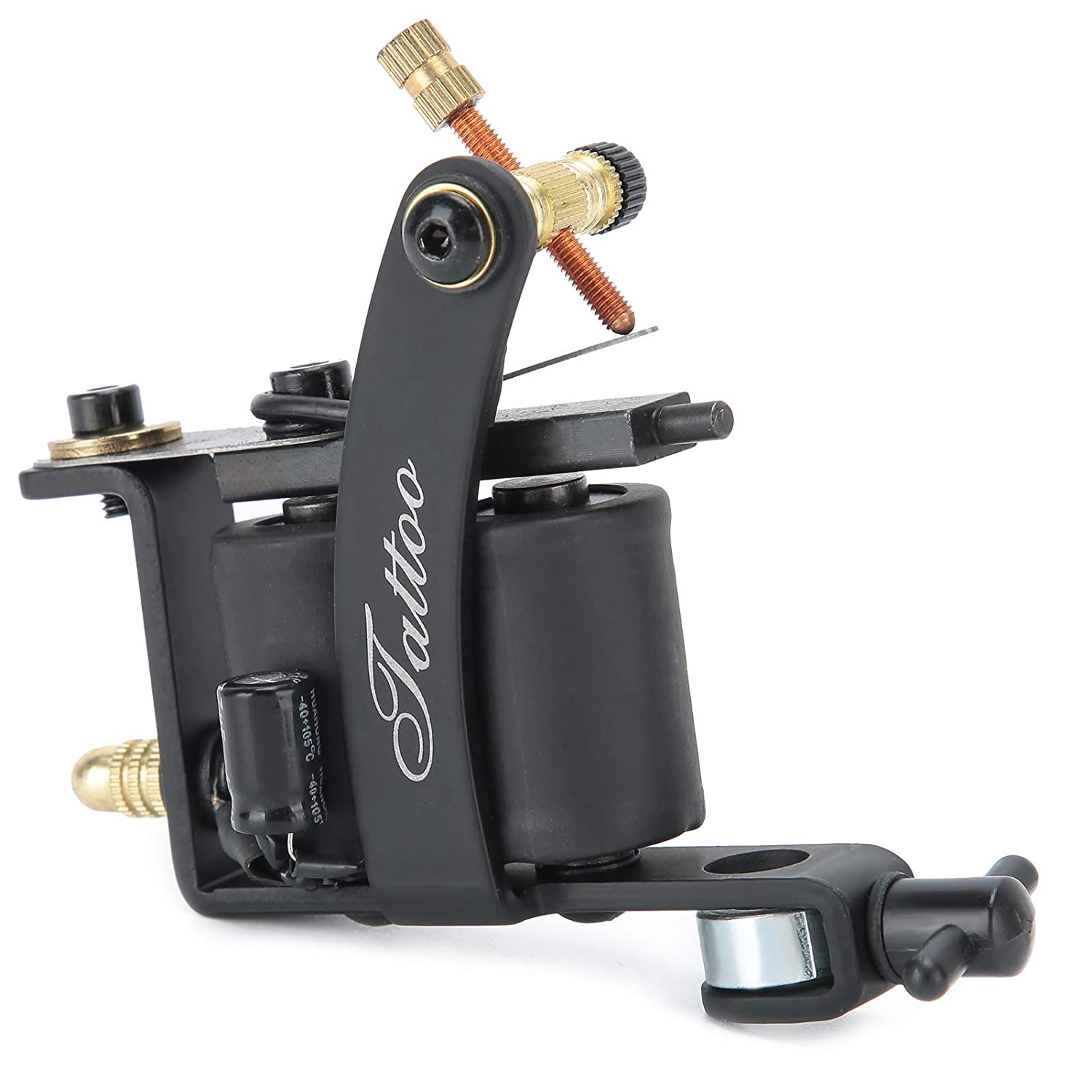 The brand name of this professional coil tattoo machine is Dioche. This product of theirs has a very elegant design. The surface of the product is hard to scratch and is made with just the right size. The shape of the machine round also making wear-resistant it looks quite stylish. The base of the machine is extremely strong and uses a rotating motor to tattoo.
It is powerful and stable. It has a low frequency though, so it is stronger and also gives a quiet environment to the person getting a tattoo. It is made with alloy and is lightweight and compact in shape and size. It doesn't get ruined easily, thus, is great for beginners as well as advanced tattoo artists.
It also has the normal voltage that other tattoo machines have. It doesn't get overheated very soon and works continuously for 8 hours. Since the speed is fast, the hit will be a little full and the machine may seem heavy for some people.
Pros
Elegant design, light and compact
Low frequency
Powerful and stable
No overheating
Great for beginners and advanced tattoo artists
Cons
Dull hit
Heav
Bad reviews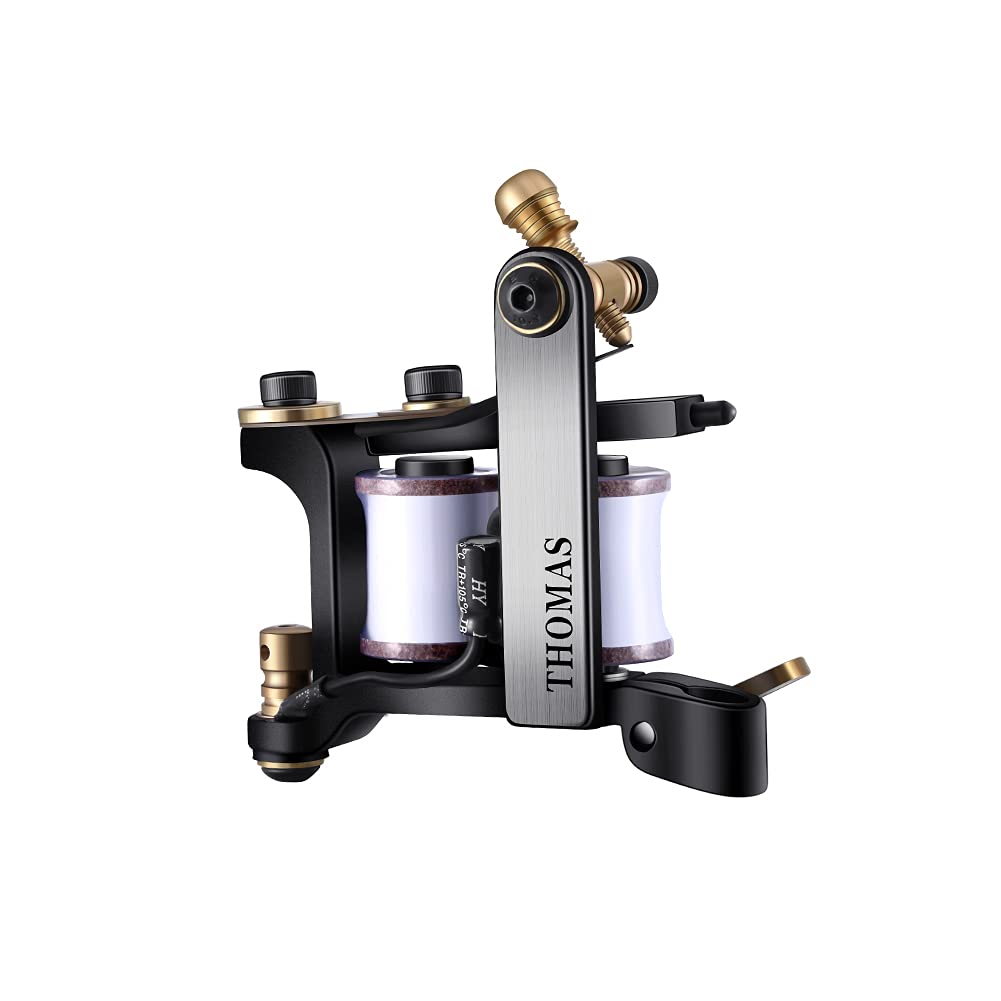 Mummy Coil Tattoo Machine is a great machine for licensed tattoo users. The frame is made up of billet cast iron and has a CNC cut. It has a complete copper contact which means that it is wear-resistant and has good conductivity. It also has a low carbon deposition which is great. The amateur bar has a good attraction and a strong slap force.
It can accommodate 10 wrap coils and has a 33 UF liner capacitor. It works for long hours without any heat and has a precise coil winding. They also provide you with a 30-day guarantee that if any product is ruined they will fix or exchange it or even refund.
The thing with this machine, however, is that you need to tune it before every use as it hasn't been done correctly, so you need to make sure of that and apart from that, it is a little heavy as well but works perfectly fine.
Pros
CNC cut
Strong slap force
30-day guarantee
No overheating
10 wrap coils
Cons
Often unavailable for purchase
Needs tuning before every use
Heavy

Buying Guide
Above, we have reviewed 11 of the best coil tattoo machines we think are available for beginners and experienced level tattoo artists alike. We think you would surely end up buying at least one of these, based on what you are looking for.
But if you are new to tattooing and do not know what exactly you need when buying a tattoo machine, we are here to help. Given below is a buying guide, on what exactly you need to keep in mind when buying a coil tattoo machine. Some of them are:
Frames
Frames are the most important thing to consider when buying a coil tattoo machine. They decide the weight and the durability of the machine. The frames hold the inner parts of the machine in place. You can have options between an iron frame or a brass frame. The brass frames are a little heavier as compared to iron frames. However, iron frames end up vibrating during the operation, unlike the brass ones. Apart from this, you also have the option to choose between zinc and aluminum frames, both of which are extremely light in weight. The frames also help in reducing the amount of pain an individual would feel while getting tattooed. Thus, frames need to be checked before anything else.
Coil Wraps
The coil wraps in a tattoo machine are the number of times the wire is wrapped around the coil. The wrap around the coil varies from 8 to 12 wraps. The 8 wrap is great for lining whereas the 12 wrap is better for shading as it is a thicker wrap. The coils decide the shade and the power of the hit and thus the speed of the machine as they are inversely proportional. When you use an 8 coil wrap, it is better for a thinner line. When it comes to a thicker shade you need to have a thicker coil wrapped. Thus, it all depends on the type of tattoo you need. You can also change the coils based on the tattoo if you are a tattoo artist looking for one.
Speed
Now, this factor also completely depends upon what you are comfortable with. If you want a gun that hits inside the skin harder, you will get a gun that has a lower speed. If you want a dull gun, then its speed will be faster. Thus, the two are inversely proportional. It may not always be true, some guns could have a higher hit and medium speed which also works well. That is the kind of gun you should buy, but if you do not mind the other two options, you can go ahead with them.
Customer Service
Amazon has a 30-day return policy but sometimes even the brand that you are ordering from may give you a certain time limit for refund, return or even solving your queries. These should help you with any problem you have regarding your gun or if you have any trouble using it. Great customer service goes a long way. People start trusting the brand and if helped with, they enjoy or buy more products from the same. Also, some of the brands provide an all-time guarantee offer. They guarantee that the product would last for a certain time or would have certain features and would not fail. Thus, some of these are very important to remember.
Budget
This is always the most important part of buying absolutely anything. You must always keep in mind the amount you can spend on a machine gun. Tattoo machine guns need to be maintained and kept hygienically. To do so, you must buy certain extra products. Even if you just plan on buying a coil tattoo machine, you must always be careful with the money you spend. You can get a lot of the same features that you need in other tattoo machines that may be cheaper than the ones you find. Beware of these things and spend on only what you think will be worth it.
Frequently Asked Questions
Seeing the buying guide you must know what exactly you have in mind to buy a tattoo machine. But there are always a few doubts most of us have regarding these machines. Thus listed below are some of the most frequently asked questions.
Are all coil machines the same?
No, the frames of each coil machine are different. It needs to be the perfect material, the screws need to be fixed right, the tube vise needs to be of standard size. Apart from this, many other factors make or break the coil tattoo machine and thus, they are not all the same.
What is the best way to clean your tattoo machines?
You must use the vaseline method. In this method, all you need to do is take vaseline and insert it between the contact screw and spring. The dirt collected will automatically get trapped in the vaseline once you start the machine at the fastest rate possible.
How to keep your tattoo machine safe?
Tattoo machines require to be kept hygienic as a lot of people use the same tattoo machine. You must always change the needle but it is safer to sanitize your machine as well. You must also change the tubes and keep your machine up to date.
Conclusion
Tattoos are really meaningful and important to most of the people who get them. Getting a tattoo may be difficult but getting the tattoo machine isn't now. We have discussed absolutely everything you need to know about tattoo machines.
With the review and the buying guide, you have nothing to worry about. Now, you can easily purchase the best coil tattoo machine for you. We hope this article helped you.
Reach out to us, in case of any queries. Thank you!